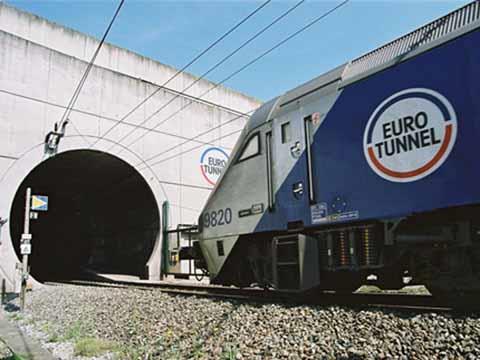 EUROPE: Presenting the FaberMaunsell/Aecom lecture on the future of rail freight in the UK at the Institution of Civil Engineers on March 12, Rail Freight Group Chairman Lord Berkeley announced that the first 'open access' freight train through the Channel Tunnel would be running that night.
It transpires that the weekly service carrying steel between Gent and Burton-on-Trent is being run by SNCF, which had once operated freight trains through the tunnel jointly with EWS but later pulled out, leaving the through trains in the hands of what is now DB Schenker Rail UK. With Euro Cargo Rail becoming a major competitor in its domestic market, SNCF has decided to find alternative partners. Haulage through the Channel Tunnel has been contracted to Euro­tunnel's rail freight subsidiary Europorte 2, and Fret SNCF's UK business unit Freight Europe has appointed Colas Rail to handle the train between Dollands Moor and Burton.
With an average of less than four trains/day, rail freight is still the worst-performing element in the Channel Tunnel's traffic mix. According to Eurotunnel's 2008 results announced on March 4, the top performer was Eurostar, exploiting its first full year of High Speed 1. After adjustment for exchange rate fluctuations, Eurostar and DB Schenker Rail together paid €260m in access charges, 7% up on the year before.
Despite the fire last September, which seriously disrupted its shuttle business but was substantially mitigated by insurance, Eurotunnel increased its operating margin to €421m, even though its total revenue of €704m was 2% down on 2007 on a restated basis. A further reduction of 2% in financial charges helped to produce a consolidated net profit of €40m, allowing the company to pay its first dividend since equity was issued to the public in 1987.
Still to be approved by shareholders at the Groupe Eurotunnel SA general meeting on May 6, the first modest dividend represents a return of 1% on the current share price of about €4. Nevertheless, Chairman & Chief Executive Jacques Gounon said '2008 clearly marks the end of financial uncertainty for Eurotunnel.' Pointing out that the €7·6m payout was 'a very small proportion' of the company's €296m cash reserve, he said 'the board decided to lodge a clear signal' because 'we believe that [the dividend] could be sustainable in the years to come'. He insisted that 'debt is no longer an issue', as the current €3·8bn is at 'a real sustainable level'.