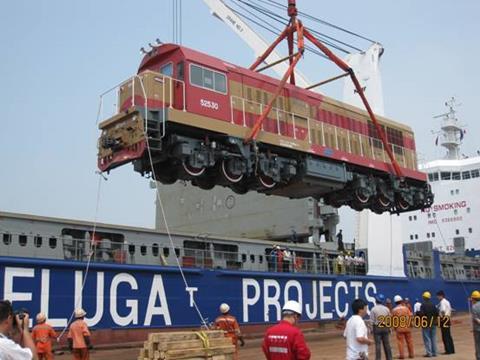 CUBA: The first 11 of 40 type DF7G-C diesel-electric locomotives ordered from China Northern's February 7th Locomotive Works in Beijing were shipped from the Chinese port of Tianjin on June 12.
The rest are due to be despatched from China during August, along with five DF7K-C Bo-Bo shunting locomotives.
CNR said a previous batch of 12 type DF7G-C locomotives are 'running well' in the hot and humid conditions in Cuba, where they had been 'warmly welcomed by Cuban people.'
Earlier this year Cuban Transport Minister Jorge Luis Serra announced plans to buy 100 locomotives from China under a US$500m rolling stock investment programme. They will be delivered in 2009-10, along with 200 passenger vehicles. 550 wagons are also to be supplied from Iran.