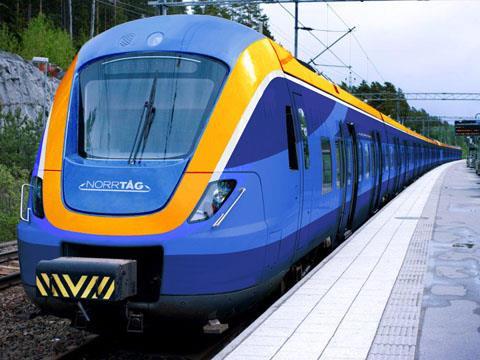 SWEDEN: The Botniatåg joint venture of Deutsche Bahn subsidiary DB Regio Sverige and Swedish national passenger operator SJ has been selected to operate Norrtåg regional passenger services on the Botnia line and other routes in northern Sweden.
The contract runs for six years to August 2016, with an option for a five year extension. 'We combine the strength of SJ's sales and distribution with DB Regio's strength in operational and quality issues', said Michael Almenäs of DB Regio.
Botniatåg submitted a lower bid than rivals Tågkompaniet and Veolia for the contract, which covers a network of routes connecting Sundsvall with Umeå and Åre, Umeå with Luleå and Lycksele, and Luleå with Kiruna. There are options for Luleå - Haparanda and Vännäs - Umeå services and cross-border extensions to Trondheim and Narvik in Norway.
Part of the network are still under construction, and a result services will begin with Örnsköldsvik - Umeå on August 30 and be rolled out in stages until 2013, by which time it Norrtåg will be operating 4·7 million train-km a year.

The operating costs will be met from ticket revenue, while the Norrbotten, Västerbotten, Västernorrland and Jämtland counties will fund the rolling stock and infrastructure in conjunction with the national government.
Alstom is building 11 four-car 180 km/h Coradia Nordic X62 electric multiple-units to be supplied through leasing firm Transitio, while a 100-seat Bombardier Itino MV3 diesel unit will be used on the unelectrified Umeå - Lycksele route from August 2011.