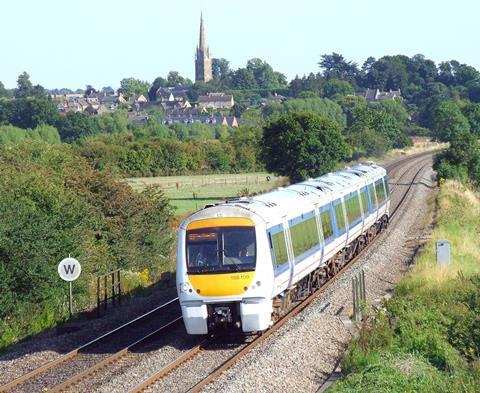 UK: German national railway Deutsche Bahn AG confirmed on January 21 that it is to acquire Laing Rail, subject to approval from the UK government's Department for Transport, Transport for London and the Office of Rail Regulation.
Laing Rail owns Chiltern Railways, which will become part of DB Regio AG, the division of Deutsche Bahn responsible for commuter and regional passenger services. DB issued a statement saying 'the trusted Chiltern Railways identity and name will remain unchanged and that Adrian Shooter and his management team will remain in control of the company.'
This announcement marks DB's entry into the UK passenger rail market. Railion acquired freight operator EWS last year, but in 2004 DB pulled out of a planned joint bid with Stagecoach for the InterCity East Coast franchise (RG 8.04 p449).
In addition to holding the 20-year Chiltern franchise which began in 2002, Laing Rail has a 50% stake in London Overground Rail Operations Ltd, a joint venture with MTR Corp of Hong Kong which operates inner suburban services under a seven-year contract with TfL which began in November. Laing Rail is also part-owner of Wrexham, Shropshire & Marylebone Railway Co Ltd, a joint venture with open access company Renaissance Trains Ltd which hopes to begin services between north Wales and London in spring 2008.
Dr Karl-Friedrich Rausch, Member of the DB Management Board and Chairman of the Passenger Transport Division said DB 'will now be operating large-scale passenger transport outside Germany. It will allow us to strengthen substantially our position in the European market along with providing the basis for further growth.'
Chairman of DB Regio Ulrich Homburg said the acquisition 'gives us great scope for further growth in the UK rail market. We intend to enter into a long-term commitment in the United Kingdom and make continuous investments in the quality of our services.'