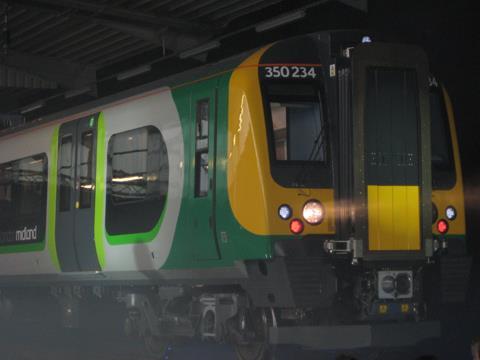 UK: Siemens rolled out the first of 37 Class 350/2 Desiro EMUs for train operator London Midland in a ceremony at the Wildenrath test centre in Germany on October 8.
The use of an existing design has allowed first unit to be completed within 15 months of the contract being signed with Porterbrook Leasing. London Midland aims to have 10 trains in service for the December timetable change, with the full fleet operational for June next year. Five units have already been assembled, and the first is expected to be delivered to Siemens' Northampton depot by the end of October.
Reflecting interest in controlling energy costs, four units will be fitted with energy meters.
Class 380 to follow
Following the London Midland vehicles through Siemens' Krefeld-Uerdingen plant will be the 38 Class 380 Desiro Express units to be delivered to First ScotRail from summer 2010.
These will have 23 m rather than 20 m bodies, and will be the recipient of the first phase of a two-part enhancement of the Desiro design, according to Ian Polson, Siemens Transportation Systems' General Manager, Rolling Stock Sales.
This will see alterations to 'everything above the floor', with the traction package and bogies generally left unchanged, although the Class 380 will benefit from a standard European braking system, rather than the bespoke UK equipment supplied thus far.
A significant change will be the use of 'fly by wire'. This uses coded digital signals to control equipment reduces the volume of cabling within a train when compared with hard-wired systems, giving a significant weight saving.
A 'flexible interior' package will save further weight; 2+2 seating is specified throughout, and there will be no first class.
Polson suggested that the original Desiro bogie had been a 'conservative' design because of a lack of experience of UK conditions, but now 'all our design engineers have been to the depots to see how the trains perform in real life', and this is expected to feed into the choice of the running gear under the second stage of the upgrade.
Other changes are the introduction of a new design of HVAC equipment from Faiveley, and a change of door supplier.