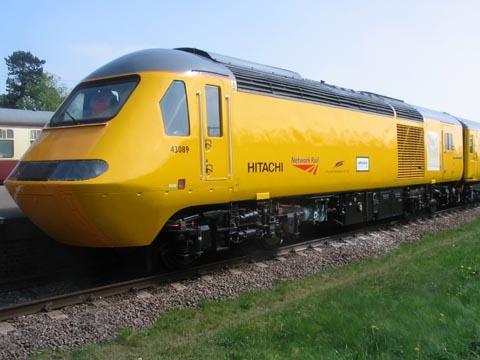 UK: Brush Traction is to return the Class 43 HST power car used to test lithium ion battery hybrid traction technology to its original diesel-only specification. Developed with Hitachi and Porterbrook Leasing, the Hayabusa power car has been running as part of Network Rail's New Measurement Train since 2007 (RG 7.07 p428).
Conversion entailed installing a lithium ion battery and inverter in a Mk III coach permanently coupled to the power car. Energy regenerated during braking was stored for re-use.
Experience with the inspection train demonstrated fuel savings on the single power car ranging from 12% on long runs to 20% on duties with frequent braking.
The power car is to be used from December by East Midlands Trains, which is understood to have been able to accept the loss of a coach for the battery, but the non-standard power car would have complicated operations.