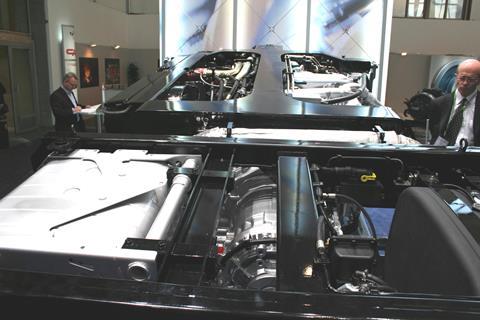 INNOTRANS: Diesel engine specialist MTU Friedrichshafen unveiled a full-size mock-up of its proposed hybrid drive package for diesel multiple-units at InnoTrans in Berlin on September 25. MTU is working with an un-named partner to develop the hybrid traction package, which will be based on the existing PowerPack 6H 1800 underfloor engine module.
In addition, the diesel engine will incorporate SCR exhaust gas after-treatment, bringing it within the Euro IIIB emission regulations which will apply to non-road diesel vehicles with effect from 2012.
As with MTU's existing PowerPack range, the underfloor hybrid drive assembly and all auxiliary equipment will be mounted on a modular steel raft for easy installation and removal during maintenance. The company hopes that this will make the hybrid option ideal for re-engining existing DMUs or railcars.
'With this hybrid drive, MTU is once again demonstrating its leading innovative role with environmentally-friendly drive systems', said Tognum's Board Member for Technology Gerd-Michael Wolters. He expects that the hybrid drive will prove particularly economical on suburban and regional routes which require frequent braking and acceleration at intermediate stations. Depending on the route conditions, the supplier estimates that the hybrid powerpack could reduce fuel consumption and CO2 emissions by up to 25%, compared to an existing DMU of a similar power rating.
The powerpack will incorporate a low-emission diesel engine and a 400 kW motor/generator unit together with energy storage facilities. Coupled directly to the mechanical drive chain, the generator will recover kinetic energy during braking which can be used during acceleration or running. The diesel and electric drives can operate together for maximum power output, but the unit will be capable of operating on electric power only where necessary to minimise noise and emissions in urban areas.