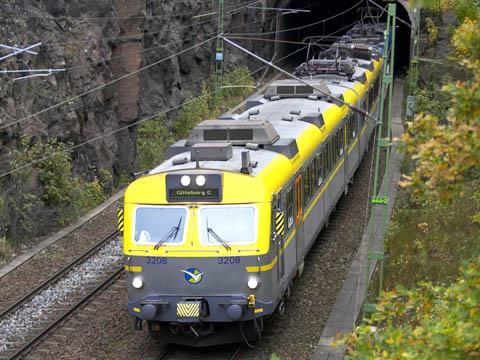 SWEDEN: Västra Götaland county transport authority Västtrafik has selected the DSBFirst Väst joint venture of Danish state railway DSB (70%) and UK company FirstGroup (30%) to operate Göteborg commuter and regional rail services from December 2010.
DSBFirst took over Øresund services between Denmark and Sweden in January, and the latest contract announced on August 28 will make DSB the second-largest passenger rail operator in Sweden, with around 25% of the market. One in four of DSB's passengers will be carried outside Denmark, according to the company.
The contract with Västtrafik is worth DKr2bn and runs for eight years from December 12 2010, with an optional two-year extension. The 11 routes totalling 961 km carried 15 million passengers in 2008, and this is predicted to grow to 20 million with the launch of an Älvängen - Göteborg commuter service in December 2012.
Bids had also been submitted by DB Regio, Svenska Tågkompaniet and Arriva, but not incumbent SJ.
'This is a milestone for DSB and further evidence that DSB is very competitive', said CEO Søren Eriksen. 'With Västtrafik, the Swedish part of the Øresund traffic and Roslagsbanan in Stockholm, we are very much a significant player in the Swedish market, and our ambition in Sweden does not end here.'