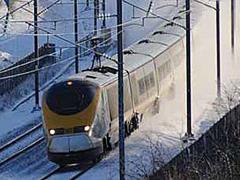 EUROPE: A further two diesel rescue locomotives able to haul failed passenger trains out of the Channel Tunnel and on High Speed 1 are to be acquired, Eurotunnel announced on November 3. The €1·3m cost is being co-financed by Eurostar.
To be delivered 'soon', the ex-DB Schenker Rail Nederland MaK DE6400 locomotives will supplement Eurotunnel's five DE1004 Bo-Bo diesels supplied by MaK (now Vossloh), and 'mean that Eurotunnel has now significantly increased its safety equipment above and beyond the specifications' of the Channel Tunnel concession agreement.
Following multiple train failures in December 2009, Eurotunnel and Eurostar have concluded that 'the best way to rescue a broken-down passenger train is to tow it out of the tunnel.'
The locomotives will be able to haul 'any high speed train on High Speed 1' to either Ashford International, London St Pancras International or Calais-Fréthun, according to Eurotunnel.