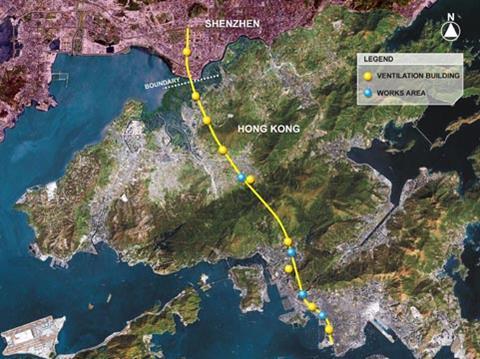 FEASIBILITY studies for the planned Express Rail Link between Shenzhen and Kowloon were submitted to the Hong Kong government at the end of June. The project covers a 28 km alignment from Futian in Shenzhen to a terminus in West Kowloon.
Outline details of the project were revealed by Hong Kong MTR's General Manager, Procurement & Contracts, Martin Dunn, who was speaking at a UK Trade & Industry seminar on rail, air and port projects in London on July 5. Dunn said that the line would run entirely in tunnel, terminating at a station built 25 m below the surface in Kowloon – the station is to have 12 platforms, each 450 m in length.
In February 2006 Hong Kong's Executive Council had asked Kowloon–Canton Railway Corp to study proposals for the link. This work has now been completed, and the intention is for design consultants to be appointed next year.