CHINA: The first of five ultra-high-speed maglev prototype vehicles has completed its maiden test run on a 1∙5 km guideway at Tonghi University in Shanghai.
The vehicle was one of three intermediate cars from a planned five-car engineering prototype. The other four vehicles are due to be completed by CRRC Qingdao Sifang by the end of this year, marking a major step in China's plans to launch a commercial application of its ultra-high-speed maglev technology by 2025.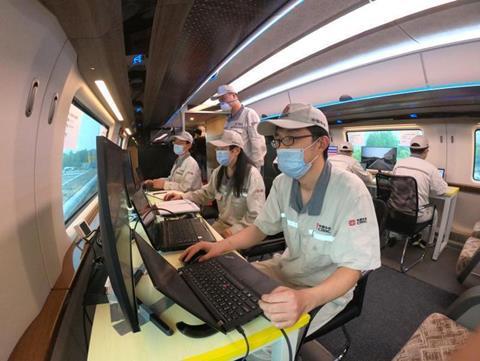 Experts from the manufacturer's research and development team reported that the test on June 21 had confirmed the vehicle's stability and the performance of its suspension. Although the test was conducted at speeds well below 600 km/h, all key technical indicators had been met, they said, adding that the trial run yielding a large amount of data and proving key concepts of the design. According to CRRC Qingdao Sifang's Deputy Chief Engineer Ding Sansan, who heads the research team, 'during the multi-condition test, the vehicle showed stable suspension guidance and a sound operation state'.
Comprehensive tests are planned on a longer section of guideway with a view to developing commercially viable vehicles. The first application is likely to be on a proposed high speed maglev link between Shanghai and Hangzhou. This 175 km line is one of 10 'super transport projects' included in plans announced in Zhejiang province in April. It would enable passengers from Hangzhou to reach Shanghai in about 20 min. If successful, the line could be extended by a further 150 km from Hangzhou to Ningbo.
Development of ultra-high-speed maglev technology is one of a number of key projects in China's 'Advanced Rail Transit' programme launched by the Ministry of Science & Technology. Engineers and experts from more than 30 universities and institutes are involved in the programme; experts from industries and universities in Germany are also supporting the scheme.
The world's only operational high speed maglev line was opened for commercial traffic over the 31 km between Pudong International Airport and the eastern suburbs of Shanghai in October 2003. This uses Germany's Transrapid technology, where the vehicles sit astride the guideway. They currently travel at 300 km/h or 430 km/h, the higher speed only being permitted at certain periods of the day because of the high energy consumption.