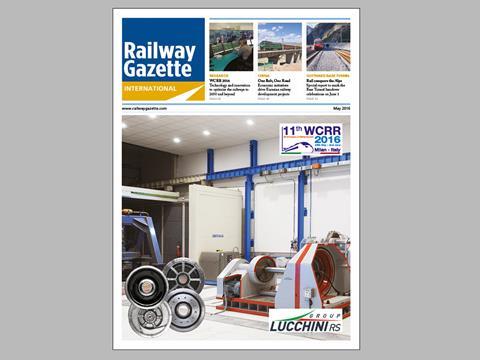 Feature articles in the latest issue of Railway Gazette International, the leading business journal for railway operators and suppliers, read in 140 countries. Subscribe to Railway Gazette International today.
Comment
Fourth Railway Package: new beginning or missed opportunity?
News
Main Line
Urban Rail
Market
Industry
Innovations
Pointers
Analysis
Europe seeks to enforce fair competition among global suppliers, New Zealand's northern branches under threat, CP-Norfolk Southern merger off
Research
Towards a turning point
Addressing the theme of 'Research and Innovation from Today Towards 2050', the 11th World Congress on Railway Research is being hosted by Ferrovie dello Stato Italiane and Trenitalia at the Stella Polare Congress Centre in Milano from May 29 to June 2
Railway research needs skills and direction
A drive to reduce the cost of building and maintaining railways should lie at the heart of a co-ordinated research strategy, believes Professor Rod Smith of Imperial College London
Shift2Rail moves into full gear
With 56 research proposals submitted for funding under the first call, the European Shift2Rail joint technology inititative is finally starting to gain momentum
China
Building an interconnected belt
The development of Eurasian rail links to create a modern Silk Road is expected to improve regional connectivity, as well as supporting the Chinese railway construction sector. Raghu Dayal investigates
Ticketing & fare collection
Make smarter use of smarter ticketing
Seamless integration, stronger data-based relationships with customers and a clear regulatory framework are required if passenger operators are to make the best use of the latest developments in ticketing technology
Ticketing innovations in focus
Virtual ticket office trialled in Essen, PayPal seeks to simplify payment, APTA signs NFC agreement
Rail conquers the Alps
Introduction
Glasses will be raised on June 1 as Switzerland celebrates the opening of the Gotthard Base Tunnel
World's longest rail tunnel forges closer European links
The Gotthard Base Tunnel is a milestone in the Swiss strategy to switch transit freight from road to rail, says Dr Peter Füglistaler
A masterpiece of engineering
Renzo Simoni of AlpTransit Gotthard AG reviews the long process of constructing the record-breaking twin-bore tunnel
North-south corridor upgraded by 2020
Work is ongoing to allow 4 m high lorry trailers to be carried by rail through Switzerland
Ceneri Base Tunnel on target
Railway equipment installation in the tunnel south of Bellinzona will start next year
Mountain milestones
The idea of a base tunnel through the Swiss Alps dates back to 1947
Policy commitment stands despite second road tunnel
The government insists it is sticking to its policy of diverting transit freight from road to rail
Research & skills
Tank wagon training in Washington DC
Forum
People
Dieter
Sidetrack
Diary
Viewpoint
The long road to Turkish market liberalisation
Railway Gazette International is the leading business journal for railway operators and suppliers, read in 140 countries. Subscribe to Railway Gazette International today.