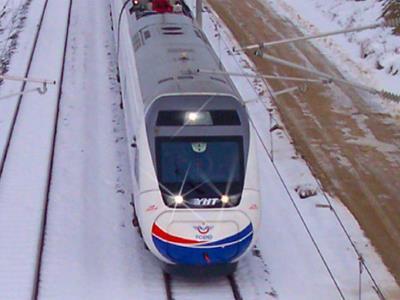 TURKEY: Lead contractor Yapı Merkezi has contracted Invensys Rail Dimetronic to install ERTMS Level 2 equipment on the 212 route-km Ankara – Konya high speed line.

Invensys Rail will be responsible for the design, manufacture, installation and commissioning of the ETCS Level 2 wayside and onboard equipment, plus the interface with the GSM-R radio backbone being supplied by Nortel.

Test running has been underway since December 2010 up to a maximum speed of 120 km/h using ETCS Level 1 supervision. To support this, Invensys has fitted Westrace electronic interlockings, FS3000 jointless track circuits and LED lineside signals under a contract awarded by Yapı Merkezi in 2008. Invensys will now overlay Level 2 with FUTUR 2500 wayside equipment and a radio block centre to give a maximum line speed of 250 km/h.

TCDD's 12 CAF-built high speed trainsets already have ETCS onboard equipment for Level 1 operation between Eskisehir and Ankara. Six of them will be fitted with FUTUR 3000 onboard equipment to support Level 2 operation. An overlay function will enforce dynamic speed restrictions to allow trains to run in degraded mode under Level 1 supervision. Invensys will also upgrade the traffic control centre in Ankara as part of the package.

When the line opens later this year, Turkish national operator TCDD expects to reduce journey times between Ankara and Konya from around 10½ h using the existing network to just 75 min.

A detailed explanation of the construction of the line appeared in the February 2010 issue of Railway Gazette International, and this can be viewed in our Digital Archive.