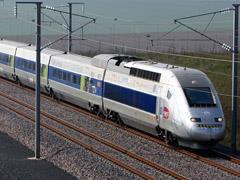 EUROPE: During a two-day conference of ministers and stakeholders held in the Spanish city of Zaragoza to discuss the Trans-European Transport Network programme, on June 8 French Secretary of State for Transport Dominique Bussereau, Spanish Development Minister José Blanco and Portuguese Minister of Public Works, Transport & Communications António Mendonça signed an agreement that should see better co-ordination of work to create a high speed network serving southwest Europe.
Priority Project 3 of the European Union's TEN-T programme comprises a high speed route between Tours and Madrid, the Nîmes - Barcelona - Madrid corridor and a connection from Madrid to Lisboa and Porto. With the aim of accelerating work on cross-border sections, Project Co-ordinator Carlo Secchi will henceforth attend all bilateral meetings.
The agreement was also signed by Transport Commissioner Siim Kallas, which the French transport ministry sees as a positive sign for the project in the light of forthcoming discussions on the EU budget for 2014-20. The ministry also reports that SNCF, RENFE and CP have been asked to form a single high speed operating company in the manner of Eurostar or Thalys.
Blanco said that the agreement was a clear demonstration of the political will to drive forward Project 3, as well as Project 16 to create a high-capacity standard gauge freight corridor from Paris to Sines in Portugal and Algeciras in Spain, including a new central crossing of the Pyrenees.