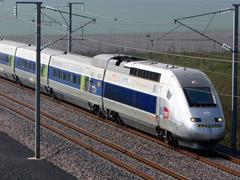 FRANCE: Three groups led by Bouygues TP, Eiffage and Vinci Concessions submitted their initial offers for the PPP concession to build, manage and maintain the Nîmes – Montpellier bypass route to Réseau Ferré de France on May 5. This is the first step in a three-stage bidding process launched on December 18 2009.
RFF will now assess the initial proposals, with a view to inviting final offers in mid-2010. The infrastructure manager hopes to select a preferred bidder and agree final terms for the PPP concession by the summer of 2011, with the line expected to open in 2016.
Intended to carry both high speed and freight trains, the mixed-traffic route will form the first stage of the link between LGV Méditerranée and the Perpignan – Figueras cross-border route into Spain. The project covers 80 route-km, of which 60 km forms the core section between Manduel, to the east of Nîmes, and Lattes to the west of Montpellier. There will be a 10 km link to the main freight corridor on the right bank of the Rhône and connections at Saint-Brès, Lattes and Manduel amounting to a further 10 km.
Public-sector financing for the project was agreed on December 2 last year, when RFF and the French government signed an accord with the Languedoc-Rousillon region, the département of Gard and the two city authorities. This provides a total of €1·62bn to cover both the construction of the new line and the upgrading of the existing route between Montpellier and Perpignan.
The project is the fourth PPP concession being promoted by RFF, following the award of contracts covering the installation of GSM-R and construction of LGV Sud-Est Atlantique between Tours and Bordeaux and the start of negotiations for LGV Bretagne-Pays-de-la-Loire.