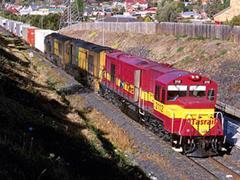 AUSTRALIA: Agreement has been reached for Tasmania's state government to acquire Pacific National Tasmania's operations from Asciano 'as a going concern'. The transfer will be completed by November 30, subject to agreement by the Asciano board and the state cabinet which is expected by June 30. Financial details have not been released.
In a joint announcement on June 19, Asciano CEO Mark Rowsthorn and Minister for Infrastructure Graeme Sturges said they believed the arrangement was 'the best possible outcome for Tasmanian rail customers, Pacific National employees and the Tasmanian community.'
Asciano announced last year that it was seeking a buyer for the loss-making Tasmanian business, which it had acquired in 2004. If a new owner could not be found, Asciano planned to close the 726 km 1 067 mm gauge network. However the government was keen to retain the railways, having previously agreed an infrastructure funding package to avert closure.
'We are extremely pleased to have reached this milestone', said Rowsthorn on June 19. 'An agreement with the Tasmanian government will provide a seamless transition of our rail operations, ongoing security to our Pacific National employees and secures the future of freight rail in the state of Tasmania.'