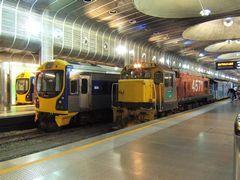 NEW ZEALAND: Improvements to commuter services in Auckland and Wellington and an overhaul of Tranz Scenic services are included in a five-year NZ$80·2m investment package announced by Finance Minister Michael Cullen, who said he will present a paper to the cabinet proposing an expansion of the role of rail 'and the investment necessary to make that happen.'
The funding includes NZ$27m for commuter services and NZ$53m for Tranz Scenic.
This will be used to upgrade DC class diesel-electric locos used on commuter services, and reinstate two additional electric locos for freight traffic in the Wellington area.
Tranz Scenic passenger stock dating back to the 1940s will be replaced with refurbished ex-British Rail stock over the next five years. There will also be an evaluation of whether KiwiRail can assemble locos in partnership with local engineering firms.
'At a time of high petrol prices and concern about climate change, New Zealand cannot afford a substandard rail system,' said Cullen. 'Despite some improvements in the past few years, a significant investment is required just to keep some existing services running.'