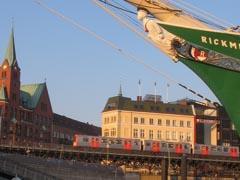 GERMANY: A joint venture of US-based Railroad Development Corp, Locomore Rail GmbH and London-based investor Michael Schabas has announced that they have established an open-access inter-city passenger operation in Germany.
Branded Hamburg-Köln Express, the venture will launch three train pairs between the two cities on August 15 2010. The trains will serve, among other places, Düsseldorf Hbf, Gelsenkirchen and Osnabrück. The trains will feature 'several classes' of seating, with pricing targeted at both the leisure and business markets.
It is understood that HKX will use former Austrian Federal Railways Class 4010 inter-city EMUs which were bought last year by RDC, and HKX Managing Director Derek Ladewig confirmed on November 4 that preparations are underway to modernise the trainsets. HKX has received firm paths from DB Netz until December 10 2010 for the three daily return journeys, and it has applied for a framework agreement which would see paths granted for a further five years beyond that date.