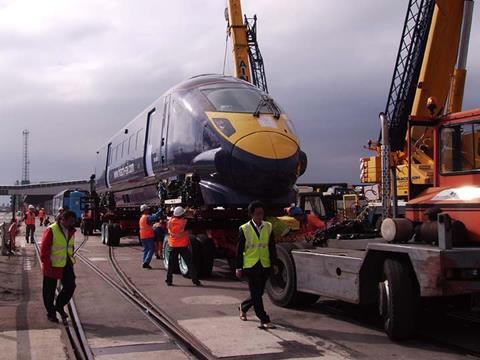 UK: The first of 29 Hitachi trains ordered for domestic services on the Channel Tunnel Rail Link was unloaded at the Port of Southampton on August 23.
The vehicles were shipped from Kobe onboard MV Tarago, a roll-on, roll-off vessel operated by Wallenius Wilhelmsen Logistics, the company responsible for delivering the trains to Britain from the Hitachi factory at Kasado in Japan.
Serco will begin acceptance testing of the six-car Class 395 electric multiple-unit during October, and they will enter service with Southeastern on services from London St Pancras to eastern Kent in December 2009.
The EMUs are equipped for 750 V DC third rail operation at up to 160 km/h on the existing Network Rail lines in Kent, as well as 25 kV AC operation at up to 225 km/h on the Channel Tunnel Rail Link, now officially called High Speed 1 and due to open to St Pancras for Eurostar international services on November 14 this year.
During the 2012 Olympic Games the Class 395 trains will be used to prove a shuttle service between St Pancras and Stratford, branded as Javelin. Part of Hitachi's A-Train product family, the Class 395 units will be maintained at new depots being built at Ashford and Ramsgate in Kent.
Captain Mark Bookham, Head of Wallenius Wilhelmsen Logistics Southampton, said 'the management of the train's shipment required detailed team planning with Hitachi every step of the way. Our operational skills were really put to the test in being able to deliver this train safely, on time, to budget and in an environmentally-friendly way for Hitachi.'
Southeastern has awarded Corys TESS a contract to supply a Class 395 simulator which will be used to provide traction training and ongoing competence assessment of train drivers and driver managers. The simulator will be commissioned at Ashford in September 2008, and to make space three of the six simulators which Cory TESS supplied in 2002 will be moved to a new training centre at Orpington.
This year has seen some dramatic developments in the high speed sector, and the September 2007 issue of Railway Gazette International will contain our exclusive World Speed Survey, a biennial league table of at the world's fastest trains.