RAILTEX: More than 400 exhibitors and around 9000 visitors are expected to take part on the 11th Railtex exhibition being held in London on April 30 to May 2 2013.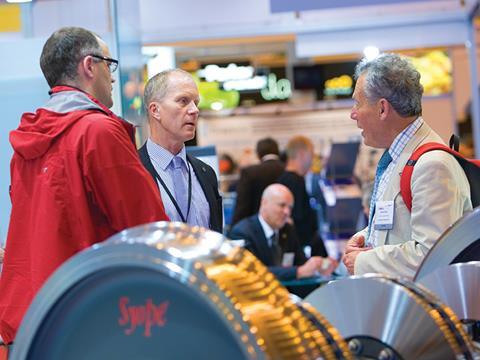 London' Earls Court exhibition centre once again forms the venue for Railtex, organised by Mack Brooks Exhibitions. This year's show is to be opened by Transport Minister Simon Burns, who will be one of the keynote speakers along with Crossrail Chief Executive Andrew Wolstenholme and Network Rail Chairman Professor Richard Parry-Jones.
Rolling stock and components
Bombardier will be highlighting its work in the London area, including the installation of CBTC on London Underground's sub-surface lines and the supply of new trains for these routes and the Victoria Line.
As well as its contract to supply trains for the Intercity Express Programme, Hitachi Rail Europe will be promoting a new design of inside-framed bogie and its ETCS signalling equipment currently being tested.
Knorr-Bremse will be launching a compact monitoring system and an enhanced version of its EP2002 distributed brake control, as well as the EP1001 wheelslide protection unit for freight applications. IFE will be showing its latest obstacle detection system for retrofitting to existing train doors.
Voith Turbo will be showing the Wedgelock coupler used on the new LU trains, and Scharfenberg couplers using the simplified One4 head. Voith will also be displaying its DiwaRail hydro-mechanical transmission and the KE 456 longitudinal drive.
ZF will be launching its ZF-EcoLife Rail automatic hydro-mechanical transmission, intended as a replacement for existing DMU drives. ZF Services UK will focus on the overhaul of wheelsets and final drives.
Pneumatics specialist Norgren will be showing a new air dryer using Adsorbent Media Tube technology, together with a range of switchgear and door actuator components. The Parker KV division of Parker Hannifin will be showing a Plug & Play control unit for automatic couplings.
EAO will be showing its TSI PRM-compliant Series 57 door push­button, and its Multi-Tone Sound Module which automatically adjusts the volume to suit ambient noise levels.
Craig & Derricott will be displaying new LED tubes for interior lighting. LPA Excil Electronics is offering an LED tube as a drop-in replacement for existing fluorescent lamps.
Signalling and train control
The Alstom-Balfour Beatty joint venture Signalling Solutions Ltd will be showing the Iconis integrated control centre, Atlas ETCS and Integr8 modular signalling, using a Smartlock computer-based interlocking.
Invensys Rail will be marking the award of Network Rail's £57·8m GNGE upgrade to modernise signalling on the Peterborough - Lincoln - Doncaster route to relieve the East Coast Main Line. iLECSYS is supplying Class II equipment for the Reading remodelling, and plug-coupled point machine power supplies for the Glasgow Suburban resignalling.
As a supplier of mosaic mimic diagrams for control rooms, TEW will be showing its Subklew SM24 panels and type-approved push-pull buttons. Pilz Automation Technology will present an automated half barrier level crossing, controlled by its PSS 4000-R safety PLC system. Laser specialist Measurement Devices Ltd is developing the SSM Zone Object Detection module for level crossings, which can locate an object to an accuracy of ±50 mm.
Infrastructure
ABB will be showing its Envistore storage technology for DC power substations which captures and recycles regenerated braking energy, and the E-saver thyristor-based inverters to feed energy back into the grid.
Tata Steel expects to begin delivering 'stress-free' heat-treated rails in 108 m lengths from October. Its HPrail offers improved resistance to wear and rolling contact fatigue, and Tata will also be showing its Railcote anti-corrosion coating. Friedrich Hippe GmbH will be promoting its compact electro-mechanical point machines including the WH 90i for light rail or metro applications.
Rosehill Rail will be showing a new type of anti-trespass panel made from recycled tyres, used at level crossings and stations. Strail (UK) Ltd will be showing its Velo-Strail crossing panels and Strail-astic A composite rail damping blocks.
As well as its GraffStop range of single-pack polymer anti-graffiti coatings, Garrandale will be highlighting its work developing the steam/hot water and compressed air modules for Network Rail's 'Winterisation Train', which has been tested in Scotland.
Having supplied Rail Plus liquid to NR for third rail deicing, Kilfrost has recently achieved certification from SNCF for its use in France to prevent the formation of ice on pantographs of TGVs operating at up to 350 km/h in temperatures as low as -25°C.
Flotec Industrial's Rail-Ability Rail-Reach III combines a mobile work platform and crane on a hybridised MAN 4x4 lorry chassis. As well as its Master 35 petrol driven impact wrench and Lase-Align track gauge, Maxim Power Tools (Scotland) will introduce its handheld or trolley-mounted F2111 Pneumatic Rusty Clip Remover for E and P clips.
Various suppliers will be promoting portable LED lighting units for trackside maintenance, including Peli Products, Ritelite Systems and Selectequip. Towermaster is showing a new range of folding light-duty lighting and CCTV columns.
Among the surveying products being shown by Korec is the Aibotix Hexacopter unmanned aerial vehicle designed to assist with inspection of bridges and structures. Bakerail Services will be showing the MiniProf wheel-rail measurement system from Greenwood Engineering.
Security and CCTV
Reading will be the first station in the UK to be equipped with IP-based CCTV surveillance, which is being supplied by Axis Communications. The cameras will provide both real-time and recorded HDTV images. Wireless CCTV will be showcasing a self-powered surveillance application for level crossings and an auto tracking dome to help counter cable theft, graffiti and vandalism at remote sites.
Access control supplier Kaba will highlight its high-security padlocks for rail control rooms and remote equipment cabinets. Abloy UK will be showcasing its Cliq Remote electromechanical security platform and Protec2 locking systems.
Maintenance depots
Depot plant and equipment specialist Harmill Systems has launched a low-profile battery electric road/rail tug designed for the removal of bogies from beneath raised train bodies. Powered by four 6 kW AC motors, it can also move trains up to 450 tonnes.
Mechan will showcase a wide range of vehicle lifting and handling products, including the Microlink controller which can handle up to 44 jacks. Semmco's modular access platforms include a compact wiper blade change platform designed for use at stations.
The Lucchini UK subsidiary of Lucchini RS will be promoting its work in assembly and overhaul of wheelsets using forged wheels and axles manufactured in Italy. Schenck Process will be exhibiting its MultiRail SandPiper machine for filling on-train sandboxes, including a mobile version, and its Multi Rail system for static or dynamic vehicle weighing. Ixthus Instrumentation will show the Riftek IDK gauge for measuring wheel diameters. Voith Industrial Services is promoting its Make Ready Services package, whilst traction motor repair specialist Houghton International will be marketing its Hitrax life-extension programme.
IT, communications and cables
In the IT sector, Panasonic will be showing the latest additions to its Toughpad range of rugged tablet devices, and Eurotech will be demonstrating an extensive range of rugged hardware for onboard applications. Zuken will be showing its E3.series Railway Edition CAD software for design of electrical circuitry.
The SR1202 Help Point from Commend UK is an updated version of the existing design using IP communications. A touch screen display provides access to live departure information and service updates. Met Systems will showing its WiSi technology for London Underground's wireless Electronic Service Update Boards, which uses touch-screen controls.
GAI-Tronics will be presenting its KETS Illuminated Crossing Phone, and its GSM-R Titan telephone. DAC has been working with NR to develop a stand-alone GSM-R crossing tele­phone, which is on trial on the Cambrian Coast line. As local agent for Holmco, Multipulse Electronics will be presenting the Funk75 ruggedised GSM-R cab handset.
Thomas & Betts will be highlighting its Adaptaflex specialist conduit systems, including the non-metallic flexible Type PF for external and internal applications. Flexicon will be showing its Ltplfh liquid-tight flexible conduit with a galvanised steel core and a low fire hazard polyolefin outer sheath.
Suppliers of electrical and ethernet connectors include Weidmüller, Provertha, Harting and Lewden Palazzoli. New snap-action switches and DC and AC contactors will be presented by Schaltbau Machine Electrics, whilst Variohm Eurosensor will be demonstrating a range of pressure sensors and transducers.
Rowe Hankins has been supplying NR with non-intrusive current monitoring units to detect voltage cycles in power cables, including attempts at cable theft. The company will also be promoting its intelligent wheel flange and top-of-rail lubrication systems.
Saft will be showing its latest generation of compact modular lithium-ion batteries developed to store regenerated traction market, and its SRA LT/HT nickel-based batteries for auxiliary backup applications.
Holophane Lighting will be showing its multi-functional Prismashield Elite modular lighting system, which was recently installed at Finsbury Park in north London.
Staff and training
Reflecting a growing focus on staff development, University of Derby will be highlighting two work-based training programmes; a BEng course for younger recruits and an MSc in Professional Engineering offering a postgraduate route to Chartered Engineer status.
An MSc course in Rail Freight & Logistics is being offered by the New­Rail centre at Newcastle University, which will also be promoting its work in the SecureMetro project and the CleanERD project.
As a leading supplier of technical documentation and training, Pennant will be offering emulation and simulation-based training using virtual reality and a shunter training course developed for RSSB.