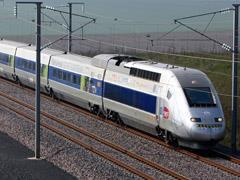 FRANCE: Infrastructure manager RFF invited tenders on September 2 for work on the second phase of Ligne à Grande Vitesse Est Européenne, with a view to starting construction in the spring of 2010. This follows the signing of the formal financing agreement for the project on September 1.
Participating in the signing ceremony were Minister for Environment, Energy & Sustainable Development Jean-Louis Borloo, Transport Secretary Dominique Bussereau. RFF President Hubert du Mesnil and representatives from the Champagne-Ardennes, Lorraine and Alsace regions as well as national infrastructure funding agency AFITF.
Total cost of the project is put at €2·01bn, excluding tax, at June 2008 prices. RFF will contribute €532m, the national government will provide €680m, and 17 regional and local authorities, including the Grand Duchy of Luxembourg will find a further €680m. The remaining €118m will come from the European Union.
Due to be completed by 2016, the 106 km extension of LGV Est from Baudrecourt to Vendenheim is expected to reduce the Paris - Strasbourg journey time by 30 min to 1 h 50 min, while Luxembourg - Strasbourg will be cut to 1h 25 min.
Civil engineering work has been split into 10 sections, of which RFF has invited bids for seven. These cover 86 km of the route, including the 4 km Saverne tunnel under the Vosges mountains. Bids for the other three sections will be called during the next few months.
According to Borloo, the second phase of LGV Est is a key element in the government's environmental strategy and the national economic stimulus package, which envisages the construction of around 2 000 km of high speed line by 2020. It is expected to generate around 6,500 jobs during the five-year construction period.