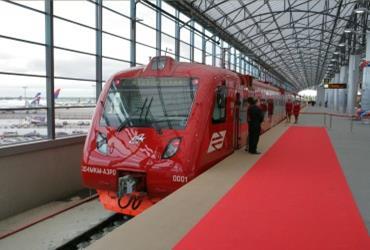 RUSSIA: First Deputy Prime Minister Sergei Ivanov attended the formal launch of rail services between Sheremetyevo international airport and Moscow's Savylovaky station on June 10.
The 29 km journey from the airport to the city centre takes around 35 min by rail, compared to around 50 min by bus on congested roads, and the 250 rouble fare compares favourably with taxis.
The airport trains operated by Aeroexpress comprise one first class car and seven second class vehicles. Regular services began on June 11, running every half hour in the peaks. The route is due to be extended to the more central Belorusskaya station by the end of the year.
On June 6 Transport Scotland began seeking expressions of interest in building 2 km of new track and upgrading 9 km of existing line under the Glasgow Airport Rail Link project. A contract worth up to £130m is expected to be placed in mid-2009, for completion in 2011.