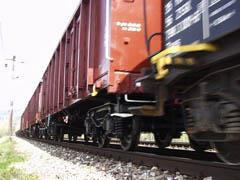 Kuwait-based Fuad Algarim Group did not meet a December 31 deadline to submit a feasibility study and begin taking over administration of the 781 km Chemin de fer Djibouti-Ethopien. The governments of Djibouti and Ethiopia are now looking for new investors to manage the line under a concession agreement; it is reported that wages are being paid but the railway is not currently operating.
On December 14 Koleje Dolnoslaskie, owned by the province of Dolnyslask, began running passenger trains on the Legnica - Miedzylesie line in Poland, and from January 5 reopened the route from Walbrzych to Klodzko.
Following regulatory approval, in January DB Schenker subsidiary Railion Italia completed its acquisition of a 49% stake in Milano-based trans-Alpine freight operator NordCargo.
RFI has started test running on the Alta Velocità line between Bologna and Firenze, achieving 339 km/h with test train Y1 on November 27.
Asciano announced in December that it was assessing a number of bids to buy a half share in the coal haulage business of its Pacific National rail freight operation. The company said it had received offers for a 'potential monetisation' of the coal business, as part of a broader plan to sell one or more of its business units.
With effect from January 1 freight operator English Welsh & Scottish Railway Ltd has been trading as DB Schenker Rail (UK) Ltd. Former EWS Chief Executive Keith Heller is now Chief Executive of DB Schenker's West Region, comprising the UK, France and Spain.
The US Trade & Development Agency has awarded a $653 600 grant to fund a study by BNSF into the feasibility of of converting the Dar es Salaam - Isaka line in Tanzania from metre to standard gauge.
In January Pakistan's National Highways Authority announced that Korean firm Sambu had completed tunnelling on the 8·8 km Lowari tunnel. From December 2010 an electrified rail shuttle will provide all-weather access to the Chitrail valley which is currently isolated during the five months each year when the Lowari Pass is closed.
The Netherlands, Belgium, Luxembourg and France have signed an agreement for cross-acceptance of locomotives, multiple-units and other rolling stock to facilitate cross-border traffic.
Following a decision in December 2008, the Russian government is to buy an additional €1·6bn shares issued by Russian Railways. The money raised will be used to build a line between Adler and Krasnaya Polyana.
Under the Szybka Kolej Regionalna project, Polish state railway's regional business PKP PR has reintroduced services between Tychy and Tychy Miasto, using four Stadler Flirt EMUs.
The US Surface Transportation Board has approved the construction by Southwest Gulf Railroad of a 14 km common carrier railway in Medina County, Texas.
DB Stadtverkehr has been selected as the winner of a concession to operate local electric train services between Nürnberg, Bamberg and Würzburg from 2011 to 2023.
The European Bank for Reconstruction & Development is providing Russian Railways subsidiary Freight One with a US$130m 10-year loan to support rolling stock modernisation.
With effect from December 14 Croatian Railways re-opened the Vinkovci - Osijek line in the east of the country. Services were stopped by the war in August 1991, with only Osijek - Brijest remaining in use for freight after 10 km of the line was destroyed, equipment stolen, a bridge destroyed and the route mined.