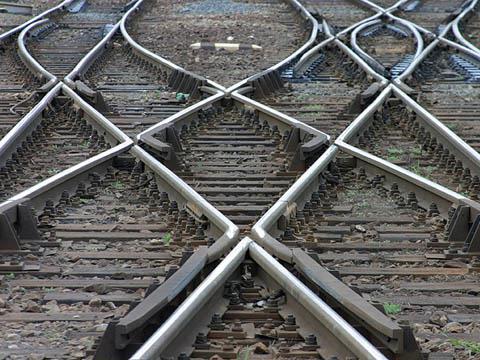 The Bulgarian government has published a draft strategy for the development of transport infrastructure through PPPs; concessions could be awarded covering the main stations in Sofia, Poduyane, Plovdiv and Varna.
The European Commission has published a Best Practice Guide for Railway Network Statements, giving recommendations for drafting Network Statements which will fulfil the requirements of EC directives while also satisfying market needs.
On March 26 Pakistan's Minister for Railways Haji Ghulam Ahmed Bilour told parliament a feasibility study had priced a 250 km/h Lahore - Rawalpindi line at Rs139bn, plus Rs156m for rolling stock. A Karachi - Peshawar route is also being studied.
The UK government is providing £3m of match funding to support a National Skills Academy for Railway Engineering, which will work with operators, suppliers and training organisations to develop common training standards for railway engineers and technicians.
Oberelbe transport authority VVO has awarded EGP a contract to operate five non-electrified routes around Dresden for four years from December 2010. A single tender is to be called for the operation from 2014 of regional services which are currently managed separately; DB Regio's contracts have been extended in the interim.
The Dutch government is providing €54m and the provinces an equal sum to increase capacity and frequencies on regional routes where Connexxion, Arriva, Veolia and Syntus have seen passenger growth. Additional passing loops and track upgrading for higher speeds will be completed by 2013.
Perry County Port Authority has awarded RailAmerica's Indiana Southern Railroad a contract to manage the 35 km Hoosier Southern Railroad, which carries pig iron, coke, coal and woodchips between a river port and Norfolk Southern tracks.
Dutch Transport Minister Camiel Eurlings laid the first of 185000 sleepers for the Hanze Line on March 3. The 50 km route between Lelystad and Zwolle is due to open in December 2012.
Under the terms of a five-year loan agreement signed on April 14, Chilean state operator EFE is to borrow US$885m for investment projects at a fixed interest rate of 577% a year. The loan is being provided by a syndicate of European banks led by Société Générale and BNP Paribas, also including Natixis and Banesto.
Spanish national operator RENFE has introduced electric traction on suburban route C3 between Alacant and Sant Vincent Centre, replacing Class 592 DMUs with Class 447 EMUs. Over 300000 passenger-journeys were made on the 73 km route C3 in 2009, a 16% increase on the year before.
Amtrak is to succeed Veolia as the operator of Metrolink commuter services in Los Angeles from June 26. The contract with Southern California Regional Rail Authority runs for four years with options for two three-year extensions.
Portuguese Prime Minister José Sócrates opened a 9 km single-track branch on March 27 connecting new bulk, container and ro-ro terminals at the port of Aveiro with the Refer network. The €727m project included a €126m intermodal terminal at Cacia.
The rail link to Stadtwerke Germersheim's container port on the Rhein in Germany has been electrified.
Funded by the UK's Engineering & Physical Sciences Research Council, groups at Heriot-Watt and Edinburgh universities have begun a three-year research project looking at high speed rail operation over soft clay embankments and the transition to bridges.
Vale is testing three locomotive remote control systems at yards on the Vitória à Minas railway in Brazil.
Work has begun on a 1776 km passenger line paralleling the existing route between Lanzhou and Urumqi in western China. Opening in 2013, it will allow 250 km/h running to halve the 20 h journey time and free capacity for freight. Construction is also underway on a 350 km/h Chengdu - Chongqing line for completion in 2014.
Test running has begun on a 130 km line between Borzya and Aleksandrovsky in Russia, the first stage of the 425 km Naryn - Lugokan line being built to serve mines at Zabaykalsky Krai.
KiwiRail and Port of Auckland have opened a rail link between Wiri inland port and Waitemata port, enabling containers to be moved by rail, saving up to 100000 city centre lorry movements a year.
Indian Minister for Railways Mamata Banerjee launched the Maharajas' Express luxury cruise train in Kolkata on March 20. The train will run across the country, operated by the Royale Indian Rail Tours 50:50 joint venture of Indian Railways Catering & Tourism Corp and private firm Cox & Kings.