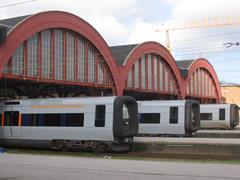 SWEDEN: Wagon manufacturer Kockums Industrier is to relocate its headquarters and production plant to a former Trelleborg AB factory in the city of Trelleborg over the next year.
The company's current site in a former shipyard in Malmö is to be redeveloped, so Kockums sought a new home. Sites in Malmö were considered, before Trelleborg was chosen for its rail and port access and opportunities for staff recruitment.
Managing Director Björn Widell said Trelleborg would be a good basis for further expansion. Kockums requires skilled welders, sheet workers and fitters, and plans to work with technical schools in Trelleborg to develop the skills it needs.