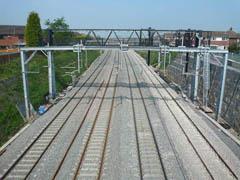 Coal India Ltd has been invited to take a stake in the Beira Railway Co consortium led by Rites and Ircon which is upgrading the 590 km Sena line in Mozambique at a cost of $440m. The route is expected to carry 12 million tonnes a year from the Moatize coalfield to the port of Beira.
On March 9 New York state Governor David Paterson unveiled a $10·7bn plan to improve inter-city passenger services and double ridership between New York, Albany, Buffalo and Montréal over 20 years, raising top speeds from 125 to 177 km/h and increasing capacity. The $3bn first phase would be completed within five years.
On February 19 UK International Development Minister Gareth Thomas announced a partnership with regional economic organisations in southern Africa to alleviate bottlenecks on trading routes across eight African countries. Known as the North South Corridor Project, the scheme should see US$800m of 'Pilot Aid' invested in improved rail links and services over the next five years.
Meeting in Roma at the end of February, French President Nicolas Sarkozy and Italian Prime Minister Silvio Berlusconi agreed to accelerate work on the Lyon – Torino high speed line, suggesting that tenders for initial works on the Fréjus base tunnel would be called within six weeks.
UAE-based Ras Al Khaimah Minerals & Metals Investment Fund signed a memorandum of understanding with the Governor of Indonesia's East Kalimantan province in Jakarta on March 2 for the construction of a 125 km railway to serve coal reserves around East Kutai. Provisionally costed at US$600m, the line is expected to carry 60 million tonnes in the next 10 to 15 years.
Having increased maximum train lengths to 560 m last December, Spanish national operator RENFE is now looking to provide more capacity on intermodal services between Madrid and Valencia. A further increase to 600 m would enable each train to carry a total of 80 containers.
Serveis Ferroviaris de Mallorca has approved a tender to study possible routes for a proposed tram-train route between Artà and Manacor.
Construction is expected to start in the second half of this year on a rail link between Uglegorsk and Ilyinskoye along the west coast of Sakhalin. Intended to serve the island's coal mines, the line is expected to cost around 300m roubles, with RZD providing 200m and the regional government the remainder.
China's Minister of Railways Liu Zhijun announced on March 11 that the ministry was 'actively planning' a cross-straits rail link between mainland China and Taiwan, connecting Xiamen in Fujian province with Kaohsiung. The coastal high speed line between Fuzhou and Xiamen is due to be completed in July and will open in November, he said.
Spanish infrastructure authority ADIF is to spend €5·5m on rebuilding Centro-Alameda station in Málaga. Work is already underway on a €16·6m project to widen for double track the 600 m tunnel used by suburban services between the main line terminus at María Zambrano and Centro-Alameda.
To support a bid for the operation of regional services in Piemonte, DB Regio has invited tenders for diesel and electric multiple-units authorised to run in Italy. Orders for up to 115 trainsets of five types plus options are envisaged, with delivery expected by the end of 2013.
Uzbekistan Temir Yollari has started construction of a 93·5 km electrified line between Yangiyer and Jozzakh, bypassing its existing main line through Dashtobod. Expected to cost US$56m, the cut-off will shorten the Toshkent – Samarkand route by 9·5 km as well as boosting capacity.
Plans are taking shape for construction of a 48 km railway between Las Palmas and Meloneras in the south of Gran Canaria. On March 2 the island's Transport Minister Román Rodriguez announced that the project had received environmental approval. With around 20 km underground and 3·7 km on viaduct, the line would have nine stations.
An agreement is due to be signed shortly between Islamabad's Capital Development Authority and Rejlers to carry out a feasibility study for the proposed Rapid Mass Transit System linking Rawalpindi and Islamabad.
The Ministry of Transport is reportedly preparing concession tenders worth US$4bn for mass transport systems in key cities in Colombia. One project is the 106 km light rail line which will link municipalities in Cundinamaca, La Caro and Zipaquirá to Bogotá's Transmilenio network by 2015.
Corporación América has signed a memorandum of understanding with Chilean transport investment group Empresas Navieras covering construction of a 23 km rail base tunnel under the Andes (RG 3.08 p137), now expected to cost a total of US$3bn.
The government of Argentina has once again extended the bidding timetable for its project to create a 160 km/h passenger route between Buenos Aires and Mendoza (RG 11.08 p864). Bids are now due by June 10.