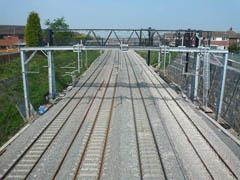 Poland's Ministry of Infrastructure has approved plans to privatise freight operator PKP Cargo. Proposals for a partial sale of Rail Cargo Austria were floated by new Chancellor Werner Feyhman on December 16. The government of Kyrgyzstan decided in December to put national railway KTY up for sale.
The Southern Africa Railways Association has endorsed the building of a line from western Swaziland into South Africa. Swaziland Railway's westernmost point at Matsapha is around 150 km from Lothair, eastern terminus of a Transnet branch from Buhrmannskop.
Giant Group and the Laos Ministry of Public Works & Transport agreed on November 10 to undertake surveys for a 220 km electrified railway from Savannakhet on the Thai border to Lao Bao on the Vietnamese border, with a link to the port of Da Nang. GGL has appointed DigiMap as project management consultant, and TMK Holding will undertake design work. The government plans a BOOT concession, with construction taking eight years at a cost of US$3bn.
Electrification of the 178 km Geltendorf - Lindau line in southern Germany is to be completed by 2015 under an agreement signed on December 19 by Transport Minister for Bayern Martin Zeil and Chairman of DB Netz AG Dr Volker Kefer. Around half the €205m cost will go on noise protection, resignalling, re­alignments to ease curves and measures to equip the line for tilting trains. The Swiss government is contributing 50% of the funding.
The prospect of federal funding for a 1 285 km package of extensions to the Ferroeste network in Brazil costing R$3·2bn has moved closer after congress voted to include it in the national plan for 2008-11. As well as extensions to Maracaju and Foz do Iguaçu, the programme includes a 300 km route from Laranjeiras to Chapecó and a 365 km line from Guarapuava to Paranaguá.
At its annual conference in Melbourne last month, the, Australasian Railway Association pledged to work towards a common-user system for intermodal terminals. A working group will consider adoption of a North American-style interchange agreement. ARA Chairman and CEO of Pacific National Don Telford said 'for too long freight operators have been fighting each other … we need to concentrate on working together and get freight off the road'.
A feasibility study has started for a 975 km Amtrak route between Kansas City, Oklahoma City and Fort Worth, which would be funded by the states of Kansas, Oklahoma and Texas. The study will assess the likely capital and operating costs, including capacity improvements on the BNSF-owned line.