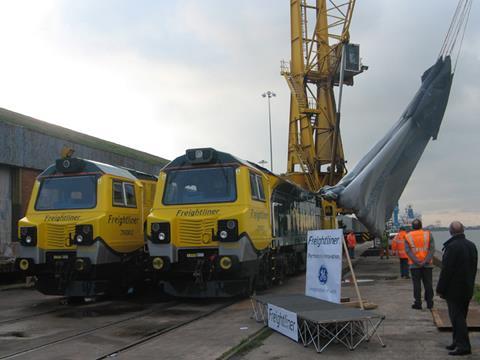 UK: The first two GE Transportation PowerHaul locomotives for Freightliner were unloaded at the South Wales port of Newport on November 7-8, after crossing the Atlantic onboard the ship BBC Kusan.
'We are excited today with the arrival of the first PowerHaul locomotives as this represents GE Transportation's entry to the UK and European marketplace', said Brett BeGole, General Manager of Global Locomotive Operations at GE Transportation. 'The PowerHaul Series is GE's most technologically advanced, fuel-efficient and low-emissions diesel-electric freight locomotive to date.'
Freightliner Group Engineering Director Tim Shakerley said he was 'extremely proud' to formally unveil 70001 and 70002 on the dockside on November 8. 'This product is a culmination of two years of hard work and partnership with GE, in order to produce a locomotive that will increase our haulage capabilities and bring further reduction to our carbon emissions.'
Freightliner claims that 'based on the current fleets and power generation, the PowerHaul locomotive emits less carbon per gross-tonne mile moved than electric locomotives'. PowerHaul is 'in excess of 10 times better than its road equivalent'.
The order for 30 PH37ACmi locomotives was announced in November 2007. The next four have left GE Transportation's Erie plant and are due to arrive in the UK next month. These initial six locomotives are fitted with monitoring equipment to provide the manufacturer with an early warning of any teething problems.