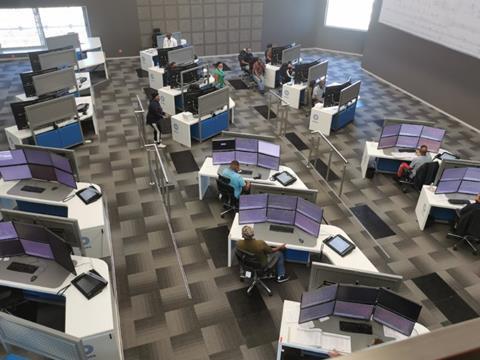 SOUTH AFRICA: Prasa has formally inaugurated its R2∙8bn Rail Management & Train Control Centre at Bellevue in Cape Town, as part of its programme to modernise its signalling and infrastructure, including adoption of ETCS tailored to local conditions.
Prasa management marked the formal opening on October 16, although the control centre which was built and commissioned by the Thales-Maziya consortium had already been partially operational for around six months.
Thales-Maziya won the contract to modernise the signalling equipment, communications and train management systems covering 46 stations and 250 route-km on Prasa's Western Cape network in 2013.
Besides the construction of Bellevue control centre, the consortium was contracted to design, supply, install, test and commission new electronic interlocking systems and the associated lineside equipment, as well as to design, supply, install and commission a new telecommunications and security system for the Western Cape. Maziya delivered the civil works and power supply infrastructure, while Thales is managing the wider roll out of signalling and telecoms equipment.
The RMTCC is intended to address a number of operational challenges on the network, notably by providing bidirectional signalling to improve flexibility and route capacity in the event of maintenance possessions or asset failures.
The longer term, the centre is intended to support the automation of all Western Cape passenger rail operations, improving punctuality and safety. Speaking at the inauguration on October 16, Minister of Transport Fikile Mbalula said that 'through this centre we are going to see a proper co-ordination and integration of all technical and operational activities during normal operations, emergencies and abnormal operating conditions of Prasa'.
A Prasa spokesperson confirmed to Railway Gazette International that the facility would essentially do for Western Cape what the Gauteng Nerve Centre does for the Prasa network around Johannesburg, adding that 'Prasa was doing all to protect the new infrastructure'.
Prasa has recently received a R900m grant from the national government to fund additional security measures in the wake of a spike in theft and vandalism in recent years which has led to major disruption to services and a sharp drop in ridership.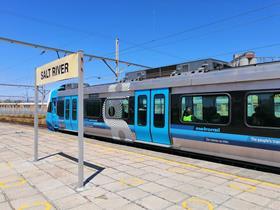 'We hope to have full security in place by the time of the ETCS roll-out', the spokesperson added. 'This long-term ambition to introduce communications-based train control equivalent to ETCS Level 2 is meant to reduce headways from the current 15 min to 2½ min.'
Meanwhile, the first Gibela X'Trapolis Mega EMU arrived in the Western Cape on October 19 for six months of type approval and commissioning trials in the region prior being granted approval for revenue service from the Railway Safety Regulator.
According to Prasa regional manager for the Western Cape Raymond Maseko, the trains are initially being tested on the Cape Flats line from Cape Town to Retreat via Athlone.