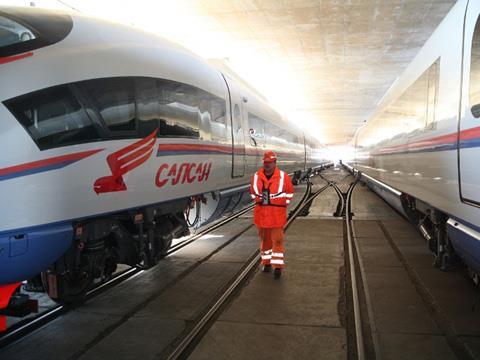 EUROPE: The first of eight Sapsan high speed trains being built for Russian Railways left the German Baltic port of Sassnitz-Mukran on November 13.
Siemens is assembling the 10-car Velaro RUS trains at its Krefeld plant, and awarded DB's logistics company DB Schenker the contract to deliver them to RZD by 2010.
Due to their broad gauge and wide body the vehicles are being transported from Krefeld by road as oversized loads. At Sassnitz they are unloaded by crane onto the port's 1 520 mm gauge tracks, and loaded onto the ferry Vilnius as two parallel five-car sections to distribute the 625 tonne weight evenly.
The ferry will carry the trains to Baltisk in Kaliningrad, from where they will be shipped to the Russian Baltic port of Ust Luga. The trains will then travel 150 km over land to St Petersburg.
'Shipping the first Russian high speed train marks another important milestone in the longstanding and successful partnership between Russia and Siemens' said Dr Hans-Jörg Grundmann, CEO of Siemens Mobility.
The trains are scheduled to enter service between Moscow and St Petersburg at the end of 2009, operating at up to 250 km/h.