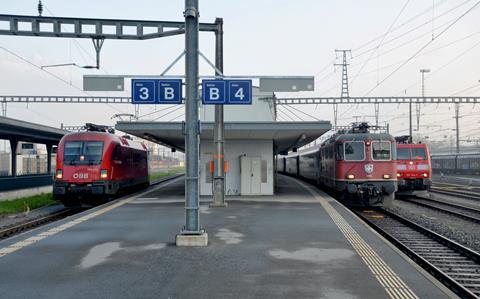 LIECHTENSTEIN: A letter of intent to go ahead with the cross-border S-Bahn Liechtenstein scheme was signed by Liechtenstein's Deputy Prime Minister Daniel Risch and Austria's Minister for Climate Action, Environment, Energy, Mobility, Innovation & Technology Leonore Gewessler on April 21.
S-Bahn Liechtenstein services would use the existing 18·5 km line running through the principality from Feldkirch in Austria to Buchs SG in Switzerland, connecting existing passenger services in the Land of Vorarlberg and canton of St Gallen.
Around 9 km of the line is within Liechtenstein, but the entire route is owned and managed by Austria's ÖBB-Infrastruktur.
The project envisages doubling of the 4·6 km between Nendeln in Liechtenstein and Tisis in Austria, and the reconstruction of Nendeln station to accomodate inter-city trains.
Previously known known as FL.A.CH, after the country codes for Liechtenstein, Austria and Switzerland, the project was estimated in 2015 to cost around €90m.
'This S-Bahn project is an important sign of a climate-friendly mobility and a very important infrastructure project for the region', said the Land of Vorarlberg's Environment & Local Transport Minister Johannes Rauch after the signing ceremony.
Gewessler said the project would make an important contribution to regional mobility, helping to achieve climate goals, boost the economy and create new jobs.
'If we will meet the growing demand for environmentally friendly and sustainable transport, Liechtenstein will continue to be an attractive place to live and do business', said Risch.