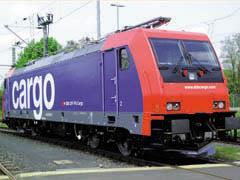 SWITZERLAND: Potential partners have until September 22 to submit expressions of interest in forming a partnership with SBB Cargo to develop Swiss Federal Railways' freight business.
SBB said on September 3 that it is aiming to improve rail's competitive position against road in the international market, provide better service on domestic routes and 'strengthen profitability and financial efficiency'.
An initial evaluation of offers against specified criteria will be followed by detailed discussions, and SBB expects to finalise a deal during the first half of 2009.
The Swiss national operator, which is being advised by McKinsey, is prepared to discuss options 'with all interested parties', whether they are based in Switzerland or elsewhere. It is looking for 'significant contributions' to the objective of switching traffic from road to rail and improving the competitiveness of the intermodal business. At the same time SBB wants to secure the future of its domestic wagonload service.
SBB Cargo's financial performance improved during the first half of 2008, with losses reduced from SFr35·5m in the same period last year to SFr8·2m. Net tonne-km, on the other hand, fell from 6 827 million to 6 600 million.
The search for a partner is not unexpected. SBB had said in March that SBB Cargo would be 'an attractive co-operation partner' after the Swiss road haulage association called for 30% to 40% of the business to be sold to the private sector. SBB also affirmed at the time that 'a total sale is out of the question'.