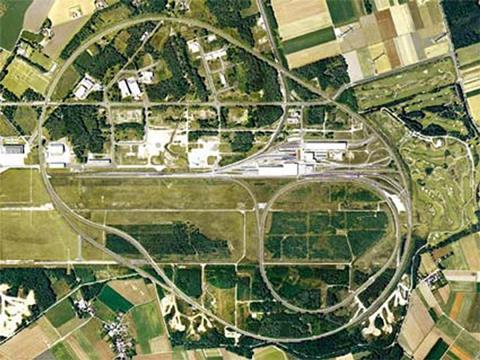 GERMANY: Eight 'pseudolite' signal generators which are being installed at Siemens Mobility's Wegberg-Wildenrath railway test centre will allow practical trials of railway applications of the Galileo satellite navigation system before the real signals are available in 2013.
Signal generators on 50 m masts will provide a Galileo signal across the 35 ha site. This will enable testing of applications such as train tracking and automatic shunting to be carried out in a secure environment with 28 km of track, including a depot and forested areas.
Satellite location has often been proposed as a basis for automatic train protection, but according to Siemens the high degree of reliability required cannot be met using current systems such as GPS, which lack integrity information and an operating guarantee. Galileo is intended to change this.
Wegberg-Wildenrath is one of two ground transport Galileo test sites being developed under the GALILEOabove project. The installation is part of the RailGATE project, being undertaken by RWTH Aachen University with funding from Germany's Ministry of Economics & Technology.
Germany's Foreign Minister Frank-Walter Steinmeier attended the launch of work to develop the DB Eco Rail Center at Kirchmöser in Brandenburg on August 10. DB Chief Executive Dr Rüdiger Grube said the long-term goal of the research facility is to offer 'emission free' vehicles on non-electrified lines. The partners are Alstom, Bombardier, German aerospace centre DLR, Enertrag, Fachhochschule Brandenburg, Linde, Siemens, Solon, Tognum, VDEI and Voith Turbo.