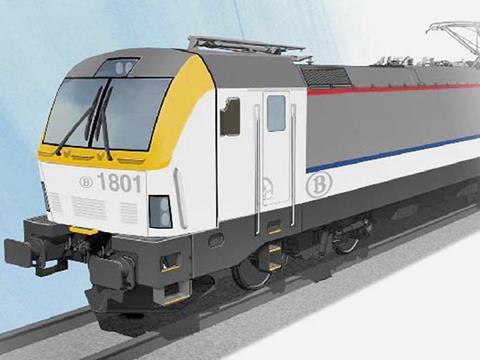 INNOTRANS: The Class 18 dual-system electric loco for Belgium will be unveiled by Siemens at InnoTrans. SNCB has ordered 60 locos, with options for a further 60, and the first is due to be delivered at the beginning of 2009.
The latest development of the Euro­sprinter family, the Class 18 is designated ES60U3. It follows the 25-strong build of Class 4700 locos being delivered to CP in Portugal. To meet the latest TSI requirements on crashworthiness, noise and fire protection, it features a revised bodyshell design, but retains the standard IGBT inverter traction controls.
The bogie is directly derived from the HAB design used on the ES64 'Taurus', with minor modifications to meet customer requirements. The traction drive, includes an extra braking shaft with two brake discs. The unit is fully suspended from the bogie frame, and powers the axle via flexible couplings and a quill drive. The axles are guided by horizontal links; primary suspension is by coil springs and a vertical shock absorber, and a king pin transmits the traction forces. Two pairs of flexicoil springs provide the secondary suspension, complemented by two horizontal shock absorbers at the frame corners and anti-hunting dampers.
Built to the UIC 1 loading gauge, the Class 18 has two pantographs: one for 3 kV DC and the other for 25 kV 50 Hz. Continuous rating is 5 MW under both voltages, with a maximum tractive effort of 300 kN. The design will be certified for use on both voltages in Belgium and Luxembourg, and for 25 kV operation in France. It will also be cleared to run across the borders into the Netherlands and Germany, developing a maximum of 2·5 MW under 1·5 kV DC at Roosendaal and Maastricht, and running to Aachen at 3 kV. With an overall length of 19 580 mm, and a tare weight of 88 tonnes, the Class 18 has 1 250 mm diameter wheels. Dynamic braking under 3 kV is rated at 2·4 MW, with a maximum braking effort of 150 kN.
Siemens will also be displaying a driving car and two intermediate vehicles for the Velaro RUS high speed train, destined to operate at up to 250 km/h on the routes from Moscow to St Petersburg and Nizhni Novgorod. Siemens has a contract to build eight 10-car trainsets for RZD and maintain them for their entire service life. The broad-gauge vehicles are 3 325 mm wide, with the end car 25 535 mm long and the centre cars slightly shorter at 24 175 mm, and each trainset will have seats for 604 passengers. Taking power at 3 kV DC, the unit will have 16 powered axles, giving a total rating of 8 MW.
Also on show will be the first of the 17 Desiro Main Line EMUs for Mittelrheinbahn services on the Köln - Koblenz - Mainz route.
Railway Gazette International is the official international media partner of InnoTrans. Meet the team at Stand 221 in Hall 1.2