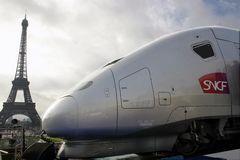 FRANCE: SNCF has called tenders for a fleet of up to 860 double-deck electric trainsets. Designated Porteurs Hyperdenses - literally Ultra-High-Capacity Carriers - they are intended for busy regional and outer-suburban routes and are required in two versions.
The Porteur Hyperdense Coeur de Cible would be ordered in four variants of different lengths ranging from 81 m or less with 295 seats to 110 m with 475 seats. The requirement is for multiple-units, but bidders are free to offer a power car plus trailer formula for the three longer variants.
Up to three sets will need to be able to run in multiple under 1·5 kV DC and 25 kV 50 Hz catenary at a maximum speed of 160 km/h, and different comfort levels may be required. An international version for use on routes into Luxembourg, Belgium and Italy is envisaged; CFL may order its own sets in conjunction with the main order placed with SNCF. Some sets could be required to run at 200 km/h on conventional lines and bidders are invited to offer a 230 km/h version able to run on high speed lines.
The second version, known as Porteurs Hyperdenses Bis, is required in two variants: a 103 m long set able to accommodate 900 people, 378 of them seated, and a 130 m set with at least 491 seats and standing room for 678. These are also dual-system trains, but maximum speed is 140 km/h.
Between 50 and 80 trains are envisaged in a firm order, with a framework contract allowing further tranches to be drawn down on a conditional basis. Bidders are also requested to submit options for maintenance of the fleet.
Offers are to be submitted by July 28, and the specified period from contract signing to final delivery is 15 years and six months. The first 50 sets are required by 2013, with at least 100 sets a year needed from 2014 to 2022.