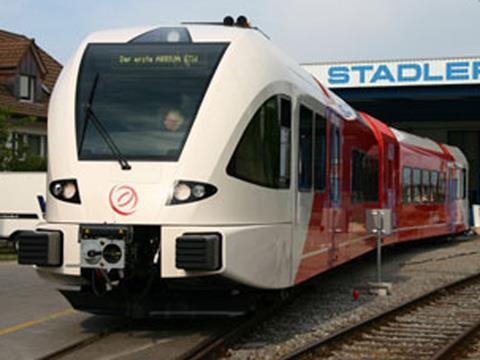 USA: Having received funding from the Texas Department of Transportation, on May 19 Denton County Transportation Authority placed a $73·8m order with Stadler for 11 GTW 2/6 diesel multiple-units for the future A-Train service between Carrollton and Denton.
The DMUs will be delivered from August 2011 to April 2012, and will replace a fleet of Budd RDC cars from Trinity Rail Express which DCTA will use to launch A-Train in December 2010.
A total of 464 GTWs have now been sold in 10 countries. The latest contract includes an option for a further 25.
The three-section GTW 2/6 units for DCTA will have seats for 96 passengers and a total capacity of 200, with air-conditioning, CCTV and wireless internet access. They will be 70% low-floor, with space for prams, wheelchairs and bicycles. DCTA plans to operate the units in pairs on the 34 km route, with a train every 20 min in the peaks.
Read more about transport developments in Dallas and Austin in the June 2009 issue of Metro Report International.