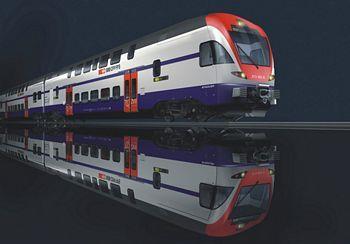 STADLER: Two strategically important rolling stock contracts were won during 2008, when Swiss-based Stadler Rail Group recorded consolidated turnover of SFr1·07bn. Though turnover was down from SFr1·24bn the previous year, the 'development of the order book was particularly pleasing' last year, with its highest-ever total order value of SFr2·6bn ensuring a 'solid basic utilisation of capacity' through 2010.
Winning the SFr1·02bn contract to supply Swiss Federal Railways with 50 six-car EMUs for Zürich S-Bahn services was 'strategically decisive', with Stadler's first double-deck trains to be used as the basis for its bid to supply inter-city double deck EMUs to SBB (RG 9.08 p543). Stadler entered the long-distance EMU market with an August 2008 order worth SFr640m to supply Norway's NSB with 50 Flirts suitable for 200 km/h (RG 9.08 p551).
Formerly a niche manufacturer, Stadler is now expanding its production facilities to handle such large orders. 'We believe in our competitiveness, which is why we are prepared to invest more than SFr90m, even in these difficult economic times', said Peter Spuhler, Chief Executive and majority shareholder of Stadler Rail Group. 'However, these investments will only pay back if we continue with our good performance and keep on winning further orders in the medium term'.