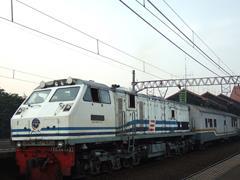 INDONESIA: Tenders are to be called in December for double-tracking the remaining single sections of the Trans-Java Railway between Jakarta and Surabaya, the Transportation Ministry announced on November 23.
The US$1·1bn project calls for doubling of approximately 425 km of single line on the 727 route-km, 1 067 mm gauge railway between Jakarta and Surabaya via Cirebon and Serebang; four sections of single line remain while around 300 km of double track are already in place. The northern Trans-Java route would then form the backbone of the rail network on Indonesia's most populous island, and relieve the pressure on the congested Pantura coastal highway.
Rehabilitation of the Trans-Java Railway is one of a number of projects being taken forward under the government's Master Plan for the Acceleration & Expansion of Indonesia's Economic Development (MP3EI). This programme also includes provision for the construction of a 33 km rail link from Manggarai to Soekarno Hatto airport, a project which is being managed by state railway PT KAI.
PT KAI has also confirmed plans to reinstate services on the suburban branch line between the port of Tanjung Priok and Jakarta Kota, which ceased in 2004. Trains are expected to resume on December 1, shortly before a major recast of the suburban network that will see 37 routes rationalised into six using a 'hub and spoke' model with a ring line to distribute passengers around the city centre.
The recast is expected to start on a trial basis on December 5; if successful in reducing crowding, PT KAI says the move would become permanent.
Read more about investment in the railways of the ASEAN region in the December 2011 issue of Railway Gazette International.