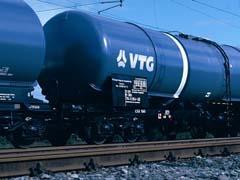 GERMANY: Hamburg-based wagon leasing company VTG AG will be listed on the SDAX index from September 22 2008, Deutsche Börse decided on September 3. VTG said that it will be amongst the 110 largest listed companies in Germany based on share trading volume and freefloat market capitalisation, excluding the 30 blue-chip companies in the DAX index.
VTG has been traded on the Frankfurt Stock Exchange's Prime Standard market since June 28 2007.
The company owns around 49 300 freight wagons, with a focus on flat, high-capacity and tank cars. It also offers tank transport and multi-modal logistics centred on rail. It reported operating revenues of €541·4m in the 2007 financial year, with an operating result of €137m.
'We are very happy about our rise to the SDAX index and the increased attention for our shares that goes along with this', said VTG Chief Executive Dr Heiko Fischer. 'The listing on the SDAX is a confirmation for the clear growth strategy of VTG. As the so far first stock listed rail logistics company in Europe, VTG is excellently positioned in the growing rail logistics market and thus makes an attractive investment.'