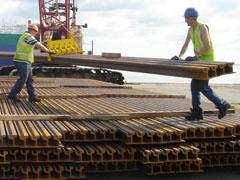 Angola: Chinese firms reconstructing the 903 km CFN line between Moçâmedes and Menongue as part of the government's National Reconstruction Programme have handed back the 89 km section between Matala and Dongo. A further 505 km is to be completed by July 2010.
Argentina: On March 3 the federal government agreed to provide 220m pesos for a seven-month programme to refurbish 207 stations on the Buenos Aires suburban network.
Chile: Cruz y Dávila has won a contract to provide project management services for the re-opening of the Arica – La Paz Railway (RG 1.09 p7). A total of 12 bids had been received for the works inspection contract.
China: Construction of the 731 km Chengdu – Lanzhou line through Sichuan and Gansu provinces was launched on February 21; the line is expected to be completed by 2014 at a cost of 62bn yuan.
Finland: Länsimetro Oy has awarded Pöyry, Sito and Fundatec contracts for rock and tunnel engineering on the 14 km western extension of the Helsinki metro. Pöyry's share is valued at €1·3m.
Hungary: A consortium led by Strabag of Austria has won a €183m contract to upgrade track, electrification and signalling on the Tarnok – Székesferhérvár line; work is to be completed by December 2012.
Israel: ISR called tenders on March 9 for tunnelling works on Section D of the direct rail link to Jerusalem, including a 2·9 km tunnel leading to the planned terminus at Binyanei-Hauma, which will be 80 m below street level. Bids are due by June 1.
Ireland: IÉ has applied for planning approval for a €100m reconstruction of Tara Street station in Dublin by 2012. Work is expected to get underway within 12 months.
Spain: ADIF has awarded FCC and Sando a €251·3m contract for civil works on the 7·6 km Sorbas – Barranco de los Gafarillos section of the high speed line between Murcia and Almería.
Turkey: AZD Praha has signed a KC100m deal to supply Celikler Yatirim Holding with telecoms and interlocking equipment for a 35 km line being built between Müratli and the Marmara Sea port of Tekirdag.
TCDD has awarded a €13m contract to Alcatel-Lucent and Thales to provide signalling and telecommunications, including ETCS Level 1, for the next 50 km section of the Ankara – Istanbul high speed line between Eskisehir and Inönü, which is expected to open in 2010.
UK: Network Rail has selected Atkins as principal contractor for the Newport Area resignalling due to be completed in 2011. Atkins is also providing communications for the Thameslink Programme; the two contracts are valued at over £60m.
USA: A $163·3m design and build contract for the 50 km first phase of the $357m SunRail commuter rail project in central Florida has been awarded to Archer Western Contractors and Railworks Track Systems.
California High Speed Rail Corp has selected Aecom to provide engineering and environmental design for a 130 km section of the proposed route through the Altamont Corridor. Aecom and HNTB will work on the 80 km Caltrain Corridor between San Jose and San Francisco.
Vietnam: The government has authorised a 30bn dong upgrading of track and tunnels on DSVN's main line through the Hai Van Pass north of Danang.