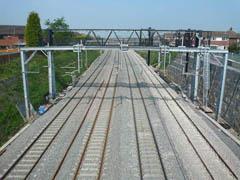 Australia: QR had awarded the Synergy Alliance joint venture of United Group and Ansaldo STS a A$250m signalling contract as part of a coal capacity upgrading programme.
Bulgaria: The Ministry of Transport has awarded Pöyry contracts totalling €1·7m to undertake feasibility studies and design for the modernisation of the 53 km Sofia – Dragoman and 97 km Sofia – Pernik – Radomir lines.
Canada: C$2·8m of federal funding has been made available for track rehabilitation, bridge re-decking and the purchase of equipment for the First Nation-owned Keewatin Railway Co in Manitoba.
China: China Railway Group has won a 1·64bn yuan contract for construction of a line between Nanchuan and Fulin in Sichhuan province.
Croatia: Last month the Central Finance & Contracting Agency awarded a consortium of Bombardier and Italian firm Site SpA a €16m contract to install Interflo 250 ETCS Level 1 equipment between Vinkovci and Tovarnik. The 33·5km section of Pan-European Corridor X is being upgraded for 160 km/h running.
Germany: Rheda 2000 ballastless track from Rail.One has been selected for the 4·3 km City Tunnel project in Leipzig (RG 2.05 p93). Getrac A3 is to be supplied for the upgrading and second bore of the Schlüchterner tunnel between Hanau and Fulda.
Harsco has announced a US$7m order to supply Voestalpine BWG with switch and crossing grinding equipment.
New Zealand: As part of a NZ$1bn investment programme announced in 2007, last month Ontrack awarded Balfour Beatty, Maunsell and Evans & Peck a NZ$10m contract for 175 track-km of electrification around Auckland. Work on the Britomart – Papakura and Newmarket – Swanson routes will be competed by 2013.
Poland: Systra has signed a contract to provide PKP PLK with engineering designs for the upgrading of the 110 km Rawicz – Poznan line to permit 200 km/h running by 2014.
Turkey: Istanbul transport authority IETT has awarded Nexans a €8·9m contract to provide contractor Gulermak-Dogus with 726 km of low and 262 km of medium-voltage power cables.
UK: Jacobs Engineering has been awarded a contract to provide detailed design, construction and maintenance support to the M-Pact Thales consortium which is to extend the Manchester Metrolink light rail network (RG 7.08 p409).
Serco has awarded Balfour Beatty Rail Projects a £2·1m contract to renovate the 21 km Old Dalby test track so it can be used for testing of the Bombardier metro trains now being built for London Underground's Sub-Surface Lines.
USA: Hampton Roads Transit has awarded Truland Systems a $27·7m contract for electrification and signalling on The Tide light rail line now under construction in Norfolk.
Working on behalf of the New York State Department of Transportation, Systra will use its Railsim software to model traffic and potential infrastructure improvements on the 520 km Empire Corridor West between ?Rensselaer and Niagara Falls.