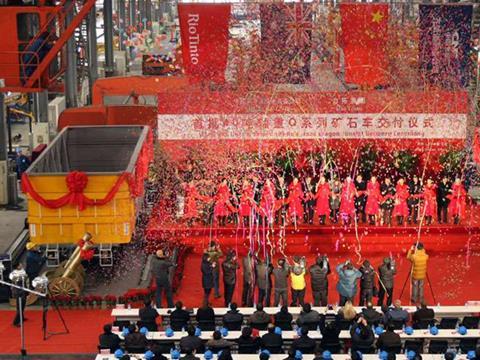 Australia: CNR Qiqihar has begun delivering 120 Series Q stainless steel wagons ordered by Rio Tinto to carry 139·5 tonnes of iron ore within a 40 tonne axleload. Wabtec has supplied ECP braking equipment.
Belarus: In December Belarussian Railways signed a firm order for a further six Stadler Flirt EMUs to be delivered in 2013-14. Intended for regional routes, the five-car EMUs will offer greater comfort and more luggage space than units delivered for Minsk suburban services.
Bolivia: Under its US$10m investment programme for 2013, Ferroviaria Oriental is looking to acquire 80 wagons. Having moved 1·3 million tonnes of freight in 2012, it is expecting to carry 1·4 million tonnes in 2013.
Bulgaria: Sofia Metro has signed a contract for Metrovagonmash to deliver 10 three-car trainsets in 2013.
China: Under contracts signed on December 28 CSR Zhuzhou will provide 33 new trainsets for Shenzhen Metro Line 1 in July 2014, and CNR Changchun will deliver 38 trainsets for lines 2 and 5 in January 2015.
Croatia: Passenger operator HŽ Putniki Prijevoz has called tenders for 16 regional and 16 suburban EMUs and 12 DMUs.
Egypt: In December the National Authority for Tunnels signed an E£2·16bn contract for Hyundai Rotem to supply 20 nine-car trainsets for Cairo metro Line 1. Of these, 16 will be assembled in Egypt with locally-made components accounting for at least 22% of the value. There is a two-year warranty and Hyundai Rotem will maintain and repair the cars for a further eight years.
Europe: Siemens is to equip 32 of DB Schenker's Class 189 electric locos with ATP, external cameras and gas fire extinguishing systems for use on cross-border trains from Germany to Poland and the Czech Republic from the end of 2014. They will also be suitable for use in Romania, Slovakia, Slovenia, Hungary and Austria.
Germany: Hessische Landesbahn has awarded Alstom contracts totalling €40m for the supply of seven new Coradia Lint DMUs and the refurbishment of seven Lint DMUs for Eifel-Westerwald-Sieg services. Modernisation of the DMUs currently operated by Vectus will include hardware and software upgrades, new seats, and fitting CCTV, power sockets and LED lighting. Finance is being provided by KfW IPEX-Bank and Helaba.
WestfalenBahn is to lease rolling stock from Alpha Trains Europa for use on the EMIL-Netz services which it is to operate under contract for 15 years from December 2015.
Tatravagonka Poprad is to supply DB Netz with bogie well wagons of two lengths which will be used to carry emergency equipment.
Bombardier is to supply 20 three-car and 15 five-car Talent 2 EMUs to Abellio Rail NRW under a €172m contract announced on December 31. They will be deployed on Saale-Thüringen-Südharz services which Abellio is to operate from December 2015 under a 15-year contract.
India: BEML's Rail & Metro business segment has announced orders totalling Rs4·5bn to supply IR with 64 Mainline Electric Multiple-Units and 72 AC EMUs totalling 600 vehicles.
Iraq: On December 15 IRR signed a US$115m contract for Dongfang Electric Corp to supply 10 DMUs. Two units are scheduled to be delivered within a year. IRR said the 160 km/h units would be modern, sophisticated and built to a high specification.
Poland: Lubuskie voivodship has selected Newag to supply four two-car DMUs suitable for use in Poland and Germany at a cost of 46·7m złoty.
Chemical company PCC Rokita has ordered two Lokotractor 22.520 road-rail shunting vehicles from Wichary Technologies.
Russia: RZD has begun taking delivery of 32 TEM18V shunting locomotives built by TMH's Bryansk plant with 882 kW Wärtsilä 20LA engines.
Sinara's STM Service has signed a five-year contract to maintain 2ES6 electric locos being supplied to RZD.
Switzerland: SBB has awarded a consortium of Windhoff and Dräger a SFr30m contract to supply two fire and rescue trains which are to be based at Erstfeld and Biasca for use in the Gotthard base tunnel.
Turkey: In December CNR Tangshan signed a €7·5m contract to supply five 100% low-floor trams to Samsun. The 42 m long four-section 70 km/h trams will have aluminium bodies and a floor height of 350 mm.
Ukraine: EBRD is providing UZ with a loan of up to US$62·5m to finance the purchase of wagons under its rolling stock renewal programme.
USA: Greenbrier received orders for 4200 wagons worth $430m in the last quarter of 2012, including 1250 tank cars worth $160m.
Las Vegas Railway Express has selected Rail Enterprises Inc to refurbish coaches for its proposed X Train service (RG 1.13 p8).
Uruguay: AFE has bought five Fiat Y1 single–car DMUs from Sweden for the reinstatement of passenger services from Montevideo to Florida and Sudriers which were suspended in June owing to a lack of serviceable locomotives.