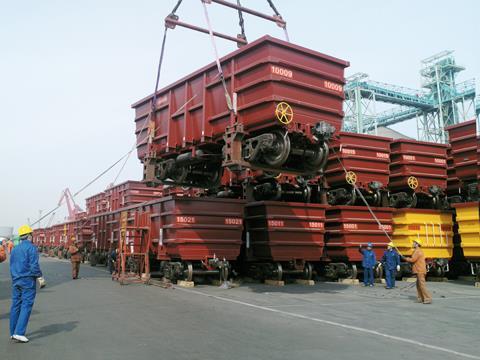 Canada: Bombardier delivered the first of 48 additional MkII cars for the Vancouver SkyTrain light metro in mid-January.
Toronto commuter operator GO Transit has exercised a US$85m option for a further 20 MPXpress diesel locomotives, to be supplied by Wabtec Corp's MotivePower subsidiary in 2009-10.
Costa Rica: Incofer is to purchase an additional four Class 2400 DMUs from Spanish metre-gauge operator FEVE for €2m. FEVE will also provide technical assistance and training.
France: SNCF has awarded Socofer and Voith a €100m contract to modernise 200 Y7100 and Y7400 shunting locomotives, with an option for a further 300. Two prototypes will be completed in 2010, with series production at a rate of four a month.
Germany: Stadler has won €25m order to supply Potsdam with 10 Variobahn five-section unidirectional trams to replace Tatra KT4D cars from 2011, with a €20m option for eight.
Italy: Trenitalia has awarded MerMec and ECM a €88m contract for the supply and installation of 685 SSC/SCMT BL3 onboard subsystems to provide interoperability between SSC and SCMT train protection systems.
Japan: Following the success of the Kiha E200 battery-diesel hybrids (RG 9.07 p523), JR East is to introduce 10 hybrid DMUs on 'resort train' services on the Oito, Gono, Tsugaru and Ominato lines from autumn 2010.
Lithuania: LG has ordered two more Class 575 three-car double-deck EMUs from Skoda Vagónka. Following the two units now in service, they will be used on Vilnius – Kaunas inter-city services from the end of the year.
October Electric Railway Car plant in Russia has completed the refurbishment of 12 Type 47K coaches for LG, with air-conditioning, retention toilets and improved accessibility.
Malaysia: Ircon is to supply KTMB with five Indian YDM4 metre-gauge locomotives modified by the Golden Rock workshop.
Netherlands: The regional government is to provide €100m to fund the purchase of a further 18 Alstom RegioCitadis light rail vehicles for use on RandstadRail Line 2 from 2011 and an extension of Line 4 from Javalaan to the future NS station at BleiZo.
Norway: In January Oslo airport rail link operator Flytoget returned to service the first of its EMUs to be lengthened from three to four cars. Bombardier is supplying 16 additional vehicles at a cost of NKr600m.
CargoNet AS is to lease six Vossloh Euro 4000 locomotives from Beacon Rail, the leasing firm established by BTMU Capital Corp after it bought the European assets of Allco.
Russia: Metrovagonmash is to supply RZD with 26 driving and 14 intermediate RA-2 DMU cars.
Slovakia: This month Tatravagonka Poprad will complete a prototype wagon developed with a view to entering the Russian market.
South Africa: Rail Road Logistics has purchased seven Class 35 diesel-electric locomotives from Transnet.
Spain: Last month EuskoTren received the first of 12 TD2000 electro-diesel locomotives ordered from local manufacturer Ingeteam at a cost of €37·5m. The 62 tonne 80 km/h metre-gauge freight locos can be powered from the 1·5 MW diesel generator or 1·5 kV DC overhead. Two will enter service in April, and all will arrive by 2011.
Sweden: Green Cargo has awarded Bombardier a five-year framework contract for loco maintenance services.
Switzerland: Alstom has signed its first service contract with SBB, a €22m 10-year deal covering maintenance of Atlas ETCS Level 2 equipment fitted to trains using the Mattstetten – Rothrist line, for which Alstom also supplied trackside equipment.
USA: Four 2 250 hp Brookville Equipment Corp diesel-electric locomotives were delivered to New York MTA's Staten Island Railway by barge last month. They will be used for infrastructure maintenance, leaf and snow clearance on the 23 km line, and may haul R44 subway cars during power cuts. A combined order for 16 locos was place by MTA; six for Metro North, six for the Connecticut Department of Transportation and four for SIR.