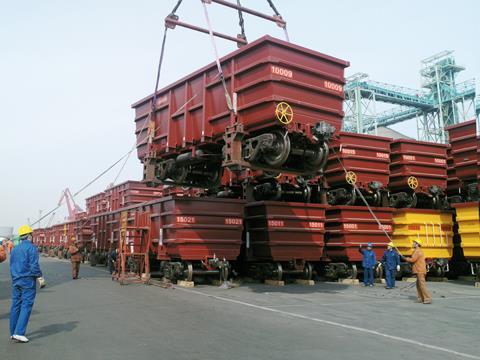 Argentina: In the first half of this year GE Transportation's Contagem plant in Brazil is to begin deliveries of nine 3000 hp diesel locos ordered by Vale to haul potash from Río Colorado to Bahía Blanca (RG 2.12 p12).
Czech Republic: CD-Telematika is to install GSM-R equipment on 197 CD Cargo locomotives in a KC90m project partly funded by the EU's Cohesion Fund.
CD has awarded Pars Nova Sumperk a KC696m contract to modernise 40 Type Bmee coaches as Bdmpee, replacing the compartments by open saloons with reclining seats, installing air-conditioning, plug doors, vacuum toilets, power sockets and electronic information and reservation systems.
Europe: MÁV and ÖBB have signed a series of strategic agreements covering Rail Cargo Hungaria. MÁV Gépészet and ÖBB TS have formed a joint venture to maintain RCH rolling stock, and MÁV-Trakció has been awarded a five-year framework agreement for the provision of traction.
France: STIF has awarded Alstom a €140m contract to supply a further 10 MP05 trainsets for Paris metro Line 14 from 2014.
On behalf of the Pays de la Loire region, SNCF has exercised a €25m option for five Alstom Régiolis EMUs.
Germany: Swiss engineering group Prose is taking responsibility for all the mechanical aspects of a rolling stock project for the first time, in its role as Vossloh Kiepe's mechanical engineering partner in the development of new vehicles for the Wuppertal Schwebebahn (RG 12.11 p14).
India: Kemrock International is producing composite components for a prototype 'world class' coach interior which IR is developing for use on new vehicles and the refurbishment of existing stock.
Ireland: IÉ has awarded Alstom a framework contract to develop a replacement for the onboard elements of its existing AWS and ATP systems.
Italy: Trenitalia has awarded AnsaldoBreda a €41·8m contract to redesign the interiors of the ETR500 fleet. Grammer has a €2·7m contract to supply seats for the project, while Multirail has a €17m contract to restyle the buffet and other areas.
Myanmar: West Japan Railway has sold 15 Kiha 181 DMUs formerly used on Hamakaze limited express services to Myanma Railways.
Poland: PKP Intercity has appointed Halcrow to supervise delivery of the 20 Alstom Pendolino trainsets.
Russia: St Petersburg metro has ordered 102 Type 81-717/714 metro cars from Transmashholding's Oktyabrskaya plant for delivery in 2012-14.
Kazan metro has ordered three more three-car metro trainsets from Transmashholding for delivery this year.
Brunswick Rail has signed three-year leases to supply paper firm Fintrans with 50 Armavir 11-18070-01 vans and Olekminsky Rudnik with 509 open wagons built by Stakhanov, Azovmash and Uralvagonzavod.
Ukraine: UZ's Donestk Railway is taking delivery of 180 Type 12-783 open wagons ordered from Kriukov Car Building Works using EBRD funding. UZ plans to acquire 1450 open wagons this year.
UK: Having received bids from 'all over the world, not just Europe', on February 2 transport authority Centro named CAF as preferred bidder to supply replacement trams for the Midland Metro from late 2014. The contract for 19 five-section Urbos 3 trams with options for up to six more will be worth 'in the region of £40m'.
USA: On February 15 Virginia Railway Express awarded sole bidder Sumitomo Corp/Nippon Sharyo a $21m contract to supply eight double-deck gallery cars in 2014. An option for up to 42 more would take the total value of the order to $119m.