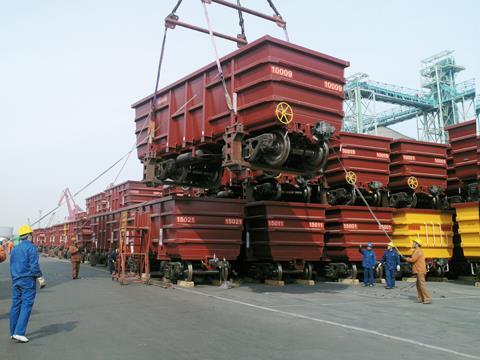 Canada: At a cost of C$12·6m Industrial Rail Services is to rebuild six Budd RDC railcars used in northern Ontario and Vancouver Island. Accessibility will be improved, and they will get LED lighting, new HVAC and rebuilt Euro-II compliant Cummins N14E-R engines.
China: ContiTech is to supply Bombardier Sifang (Qingdao) Transportation with air springs for 50 CRH1C and CRH1D high-speed trains.
Estonia: Elektriraudtee has selected Stadler to supply 18 electric and 10 diesel multiple-units in 2012-14. The EU Cohesion Fund is covering 85% of the 1·25bn kroon cost of the 3·3 kV DC Flirts, while the diesel units will be supplied under a 20-year lease with the 85·2m kroons/year cost met from the state budget. There is an option for a further 10 DMUs.
France: SNCF has placed further firm orders for multiple-units within its large-scale framework agreements. On March 24 Alstom announced a third order for 23 Régiolis sets worth €135m, and Bombardier announced a second tranche of 49 Régio2N double-deck EMUs worth €350m. ABB has a SFr25m contract to supply Alstom with traction transformers.
Germany: The VPS transport and logistics subsidiary of Salzgitter AG has awarded Vossloh Locomotives a €25m contract to supply 18 G6 diesel shunters from early 2011.
Rurtalbahn has placed a €8·85m order for five Stadler Regio-Shuttle diesel railcars to be delivered in mid-2011.
Italy: AnsaldoBreda is to refurbish 51 Series 4900 trams for ATM Milan under a €33m contract.
Pesa is to supply a further four ATR220 DMUs to FSE, which has previously ordered 27. The Polish firm has now delivered 33 of the 41 ATR 220 units ordered by Italian customers.
Kazakhstan: EBRD is providing a US$50m loan to enable the Kaztemirtrans leasing subsidiary of KTZ to acquire 1000 wagons.
South Korea: Hyundai Rotem is to supply Korail with 56 six-axle 6·6 MW Series 8300 electric locos with Toshiba traction equipment in 2011-12.
Lithuania: Pesa is to supply LG with eight more 620M single-car DMUs by June 2011, following on from four delivered in 2008-9.
Malaysia: By June KTMB will take delivery of 15 used Japanese coaches offered free of charge. After refurbishment they will be used on inter-city services. The government has announced plans to order 38 EMUs for delivery from the end of 2011.
Poland: Szczecin has purchased 11 second-hand KT4Dt and 20 T6A2 Tatra trams from Berlin for €1·5m to replace its oldest 105Na cars.
Koleje Mazowieckie has signed the €41m contract for Bombardier to supply 11 Traxx P160 DC electric locomotives in 2011, and provide maintenance for four years (RG 3.10 p8).
Russia: The Mecheltrans subsidiary of mining and metals group Mechel is increasing its fleet by 12% with a 1·26bn rouble agreement to lease 450 wagons from Gazprombank.
Rusagrotrans has ordered 283 Transmash Type 19-3054-04 grain wagons of 70·5 tonne capacity. Altaivagon is to supply Novotrans with 4000 open wagons during 2010.
Transmash's Novocherkassk plant is delivering 15 2ES4K electric freight locos to North Caucasian Railway.
This month RRR will put into service 50 Type 12-9780 open wagons supplied from Barnaul Car Building Plant.
Switzerland: SOB has ordered 14 more Stadler Flirt EMUs at cost of SFr123m, to be delivered in 2012-13 as an option on a 2005 order. They are needed to increase capacity and replace older vehicles, though the exact number will be finalised later this year after a referendum on the proposed St Gallen S-Bahn project.
USA: EMD and Norfolk Southern have begun a biodiesel test programme with eight SD70M-2 and two MP15 locomotives running on 10%-20% blend.