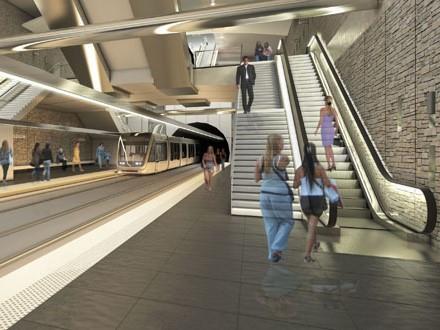 FRANCE: Métropole Nice Côte D'Azur has selected Alstom Transport to supply 19 trams for the second tram route in Nice. The €91m contract announced on October 12 includes 12 years of maintenance and options for up to 18 more trams.
As the surface sections of the route will have no overhead wires, the Citadis X05 trams will be equipped with Ecopack supercapacitors. These will be recharged at stops in 20 sec using Alstom's SRS ground-based static charging technology.
The 44 m long trams will have a capacity of 300 passengers. They will be equipped with LED lighting, passenger information screens, CCTV and regenerative braking. They are to be designed at Alstom's site in Saint-Ouen and assembled in La Rochelle. Bogies will be supplied from Le Creusot, traction equipment from Ornans and Tarbes, electronics and passenger information system from Villeurbanne, and the SRS charging systems from Vitrolles. The first deliveries are due to take place in mid-2017, with entry into service scheduled for 2018.
Line 2 will run for 11⋅3 km from the port in the east to Nice Côte d'Azur Airport in the west, with 20 stops. The end-to-end journey time is expected to be 26 min, and ridership is forecast at 140 000 passengers/day. The total cost of the project is €770⋅7m, of which the French government is providing €52⋅8m.
A 3·2 km underground section under the city centre with four stations is being built by the Thaumasia consortium of Bouygues Travaux Publics, Solétanche Bachy, CSM Bessac, Systra, Colas Midi Méditerranée, SNAF Routes and Garelli under a €270m contract.
Line 1 of the Nice tramway opened in 2007, with a one-station extension following in 2013. The Alstom Citadis trams operating this route are equipped with batteries so that they can run off-wire on two short sections in the city centre that have no catenary.