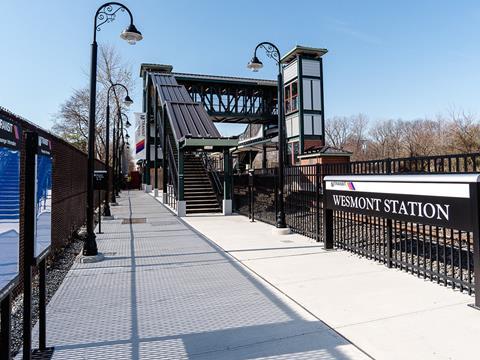 USA: Located between Rutherford and Garfield stations in the Wood Ridge district of New Jersey, Wesmont commuter rail station is to open on May 15, commuter rail operator NJ Transit says.

The station will be served by NJ Transit's Bergen County Line which has through trains to Secaucus Junction and Hoboken Terminal. The first new-build commuter rail station to open in New Jersey since 2008, Wesmont has been developed as a public-private partnership between NJ Transit and property company Somerset Development, which is redeveloping the site of a former Curtiss-Wright aero engine factory.

The station and related infrastructure cost just under $18m, NJ Transit says, with its share amounting to $6m.

A clear focus is placed on transit-oriented development, the two partners say, with pedestrian and cycle routes being developed to serve local residential areas. However, the station will also feature a 215-space car park, although on opening a temporary facility will accommodate 24 vehicles.

'This project is a prime example of how a public agency and a private developer can work together to invest in our transportation system for the benefit of neighbouring communities', said NJ Transit's Interim Executive Director Dennis Martin. 'This station will be primed to provide easy connections for nearby residents to get anywhere in the tri-state region and beyond.'

'At Wesmont Station, we set out to transform an underserved portion of Wood Ridge into a vibrant and walkable, transit-oriented community, and the opening of this station represents the realisation of our vision', added Ralph Zucker, President of Somerset Development.