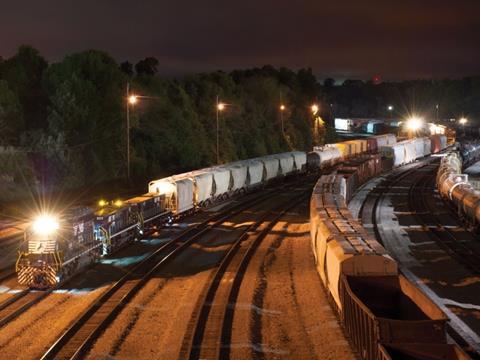 USA: Norfolk Southern has successfully rolled out the first phase of its Thoroughbred Operating Plan 21, covering its wagonload and automotive traffic, the railway confirmed on July 22.
Mirroring the principles of the Precision Scheduled Railroading concept adopted by other Class Is, TOP21 is designed to improve system velocity and ensure more predictable transit times while reducing the amount of assets deployed.
Announcing the company's three-year strategy at its Atlanta headquarters in February, President & CEO Jim Squires said NS had 'decided to adopt precision scheduled railroading because it works'. The railroad was looking to build on its earlier efforts to improve profitability, which had seen its operating ratio improve from around 73 in 2015 to 65·4 last year; the aim is to get the figure below 60 by 2021.
According to NS, TOP21 was rolled out during the first week of July 'with minimal impact to customer service and network operations'. It attributes this to extensive planning, including 'iterative modelling by the Network Planning & Optimization team'. The plan was then reviewed by both the operating and marketing departments and adjusted in the light of feedback from customers and employees.
Having briefed 'hundreds of key customers' ahead of implementation, NS established two command centres to monitor network status and customer concerns throughout the process. However, it says no significant issues were reported.
Mike Wheeler, Executive Vice-President & Chief Operating Officer confirmed that NS has already started planning the next phase of its TOP21 implementation.