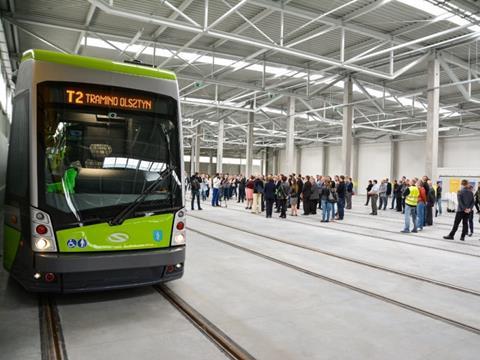 POLAND: Solaris officially handed over the first tram for Olsztyn on June 19 at the depot on ul Kołobrzeska.
The tram and bus manufacturer signed a €30m contract in September 2012 for the supply of 15 Tramino vehicles, and has completed the first two. Testing started on May 28 at the Franowo depot in Poznań. Deliveries are due to be completed by the end of the year.
The three-section bidirectional 100% low-floor trams are 29·3 m long and 2 500 mm wide with capacity for 200 passengers, including 43 seated and two wheelchair spaces. The air-conditioned trams feature six pairs of 1 300 mm wide double doors per side and CCTV. They are powered by four 120 kW asynchronous traction motors, giving a maximum speed 75 km/h.