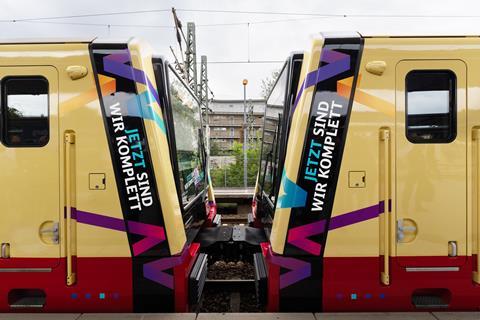 GERMANY: All 106 of the Class 483/484 Berlin S-Bahn trainsets ordered from a consortium of Siemens Mobility and Stadler are now in traffic, following the entry into service of the final set after a ceremony at Charlottenburg on September 18.
'The longer trains offer more seats; air-conditioning and the state-of-the-art passenger information system enhance comfort and convenience', said Manja Schreiner, Berlin Senator for Mobility, Transport, Climate Protection & the Environment.
'The expanded and improved service can make switching to rail an interesting option for many. We will continue to pursue this course of offering attractive services to win over more and more people.'
Framework contract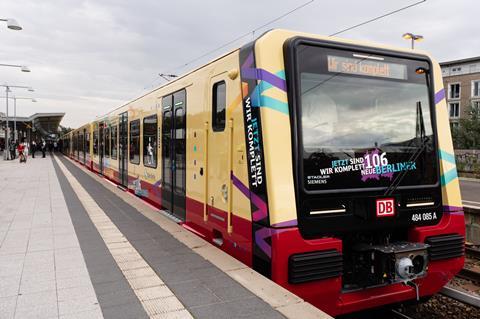 In December 2015 DB subsidiary S-Bahn Berlin GmbH awarded the consortium a framework contract for up to 1 380 electric multiple-unit cars for the capital's metro-style suburban network, with a base order to supply 85 four-car and 21 two-car sets to be used on the Ring and southeastern branches of the network, comprising routes S41, S42, S46, S47 and S8.
The order was funded by the Länder of Berlin and Brandenburg.
Stadler was responsible for the mechanical and structural aspects of construction at its Berlin Pankow site, with Siemens responsible for the electrical components, including the 800 V DC third rail drive and brake systems, onboard power supplies, control and train protection systems, passenger information systems and the bogies. The traction systems give a maximum speed of 100 km/h and are designed with a high degree of redundancy.
The first set was unveiled at InnoTrans 2018, and entry in service began in January 2021.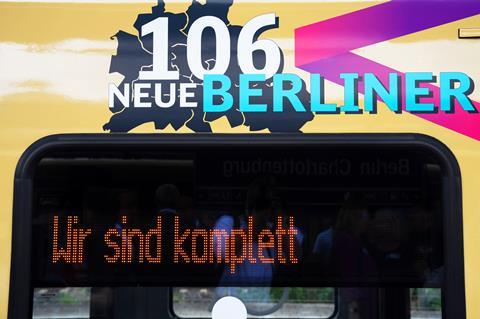 This has enabled the operation of longer trains on the Ring lines S41/S42 and on S8, which has been extended to Wildau during the peaks.
Meanwhile, operator S-Bahn Berlin has now refurbished more than 300 of its 500 two-car Bombardier/Adtranz Class 481 trainsets dating from 1996-2004.